Template this
How templates can help to deal with routine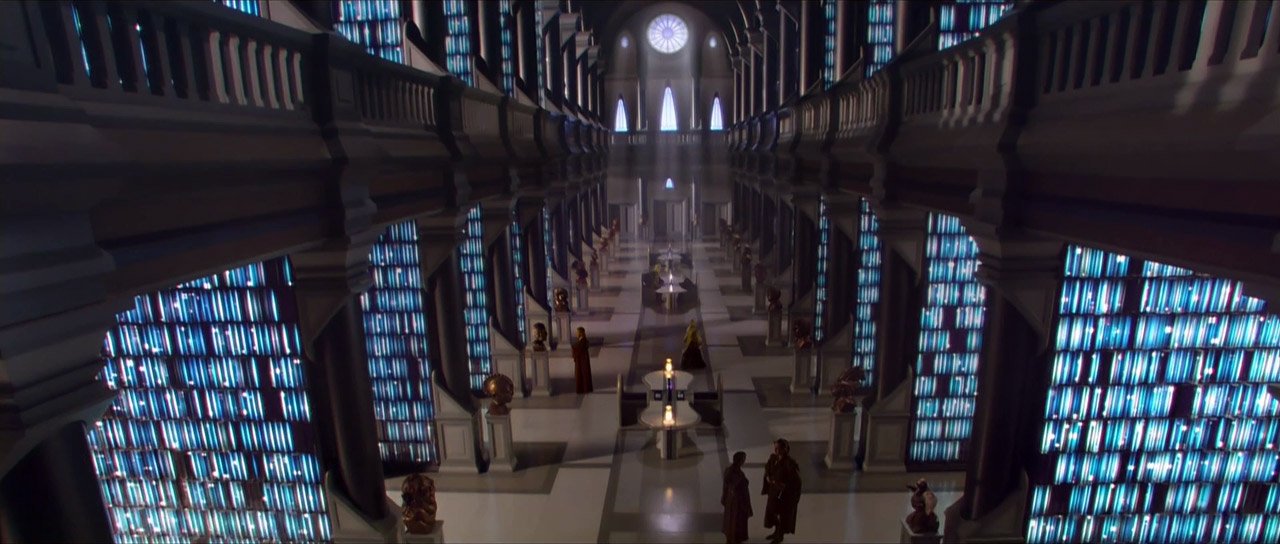 Please tell us about personal efficiency and how you deal with the routine.
Daniel
I used to think that being a music producer is all about creativity, and well, you know, music production. Later I realized that it's not really is.
Music producer's routine also includes dealing with record labels, agents, other artists, and press; doing marketing communication with the fans over social media, websites, emails, and newsletters; and much more. And it's very easy to get lost and overwhelmed with it.
The situation gets even worse if you add a full-time job to this scenario, which many upcoming producers have besides the music. Doing all these producer's routine seems impossible!
Re-energizing for music production after 9-6 work
It's good to have a manager or some sort of personal assistance that would take some of those tasks off from your shoulders, but in reality, not every producer can afford to have one, or actually need it.
So, I'd like to share a few tips on how to save your precious time using templates.
Use templates for emails
As an A&R at JOOF, one of my responsibilities is listening to incoming demos, and I receive a few dozens of demos every day. Some tracks are great, some are not quite, some others are absolutely out of format, like a pop dance song with some vocal.
Most labels simply ignore the demos that didn't fit, but I believe leaving a message with no reply isn't really polite. So I do reply to every single demo, however, I would spend half a day if I'd actually write every email from scratch.
Here come the templates. I've written templates for all possible occasions, and all I need to do now is to simply copy and paste the right template. Takes 10 seconds, literally.
Here are two just to give you an idea: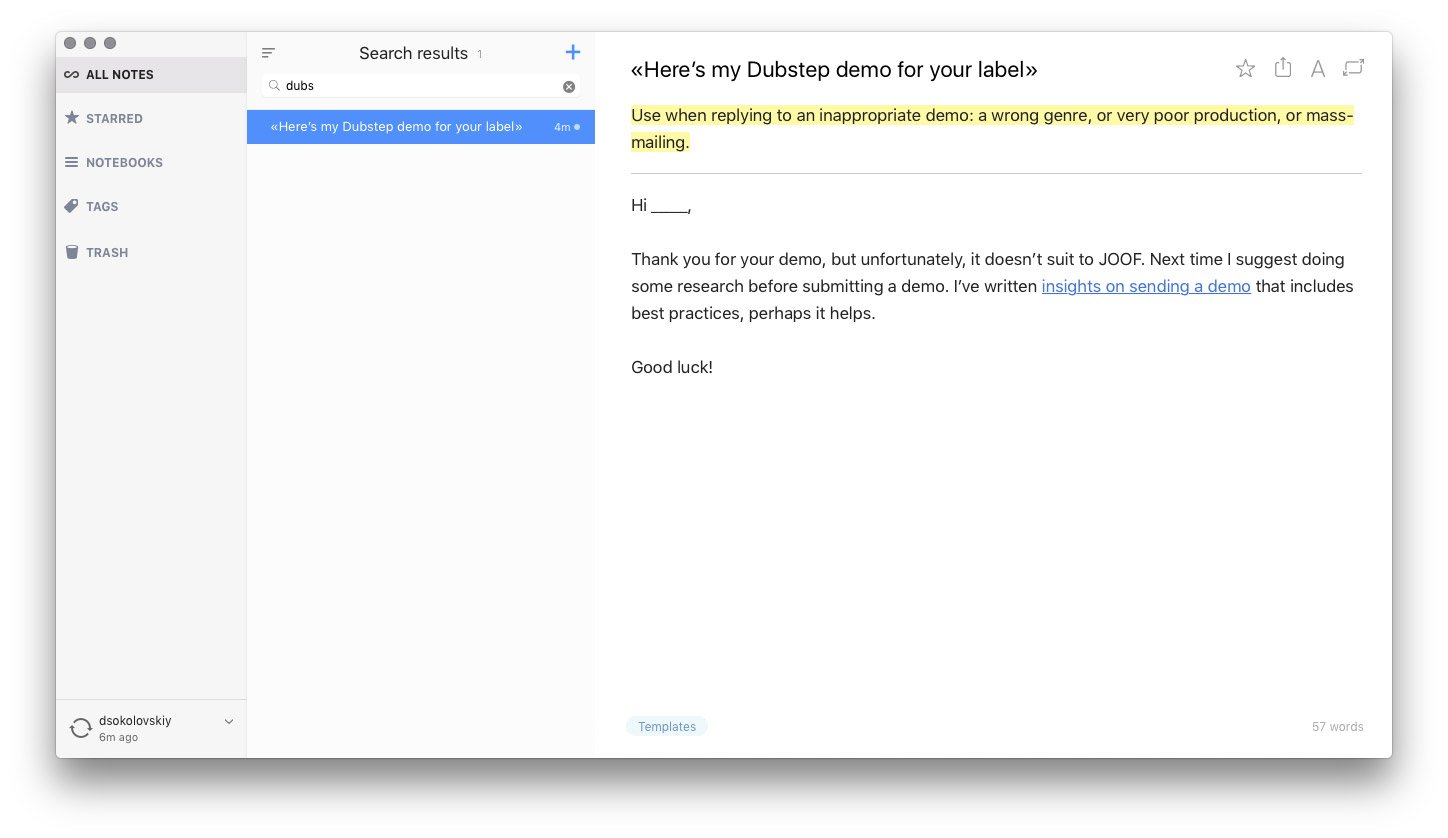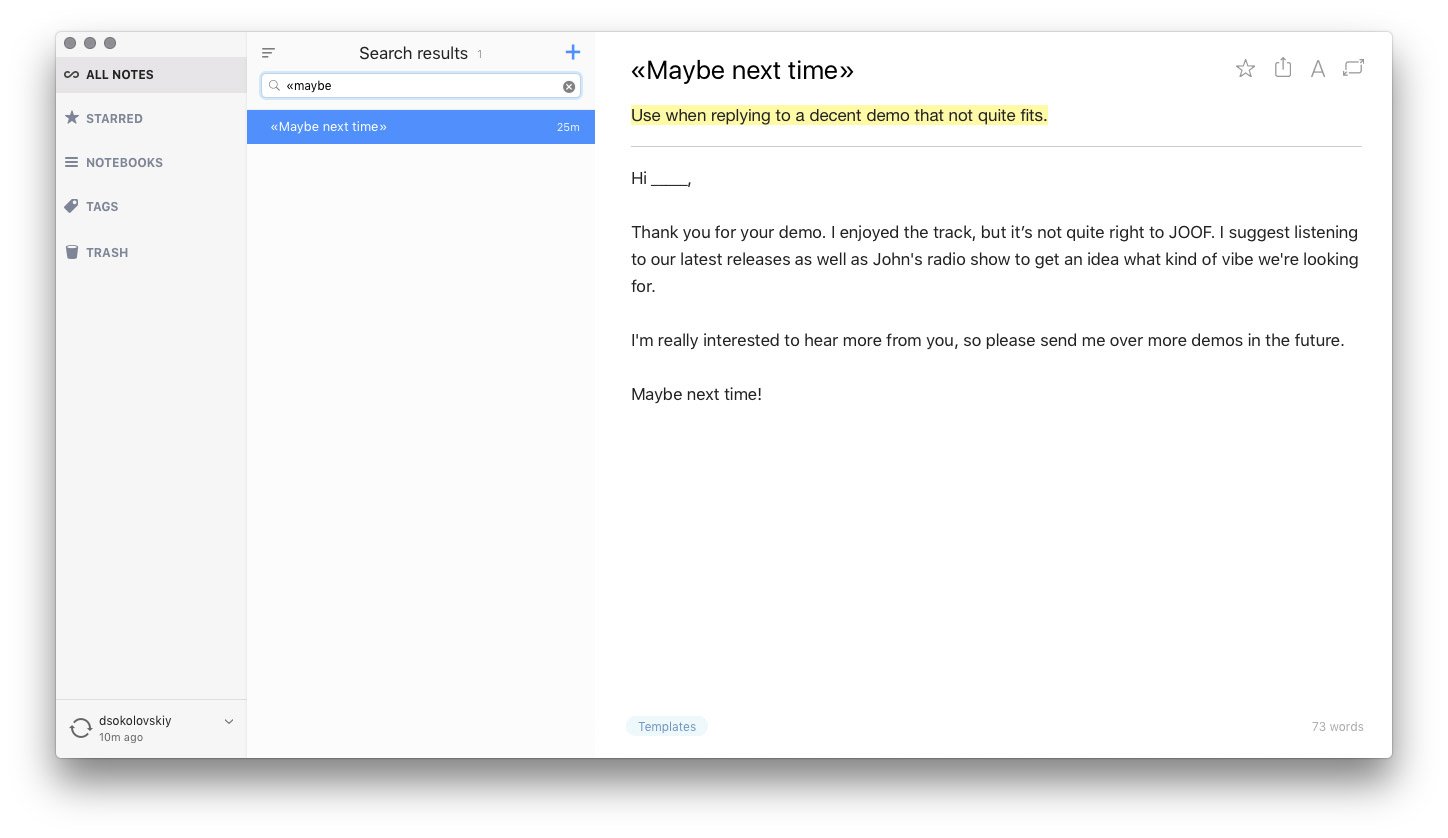 I'm using Evernote to keep all my templates library, but obviously, there are plenty of other tools: Google Docs, Notes app, Trello, simple text files in a shared folder, you name it.
I also have templates for any other kind of emails, such: when a party promoter sends me booking request, or when a fan asks when I'll be playing next, or when a DJ wants to make a guest mix for Rave Podcast.
And guess what happens if I don't have a template for some specific request? Right, I make a new one!
Use design templates
Do you often use similar images, or making press releases, or sending a newsletter? Invest some time and money to create a good template once, and it will serve you for years.
I use templates for pretty much every kind of graphics I share on a regular basis: Rave Podcast covers, announcements, mockup templates for the website, and more. And it saves a lot of time.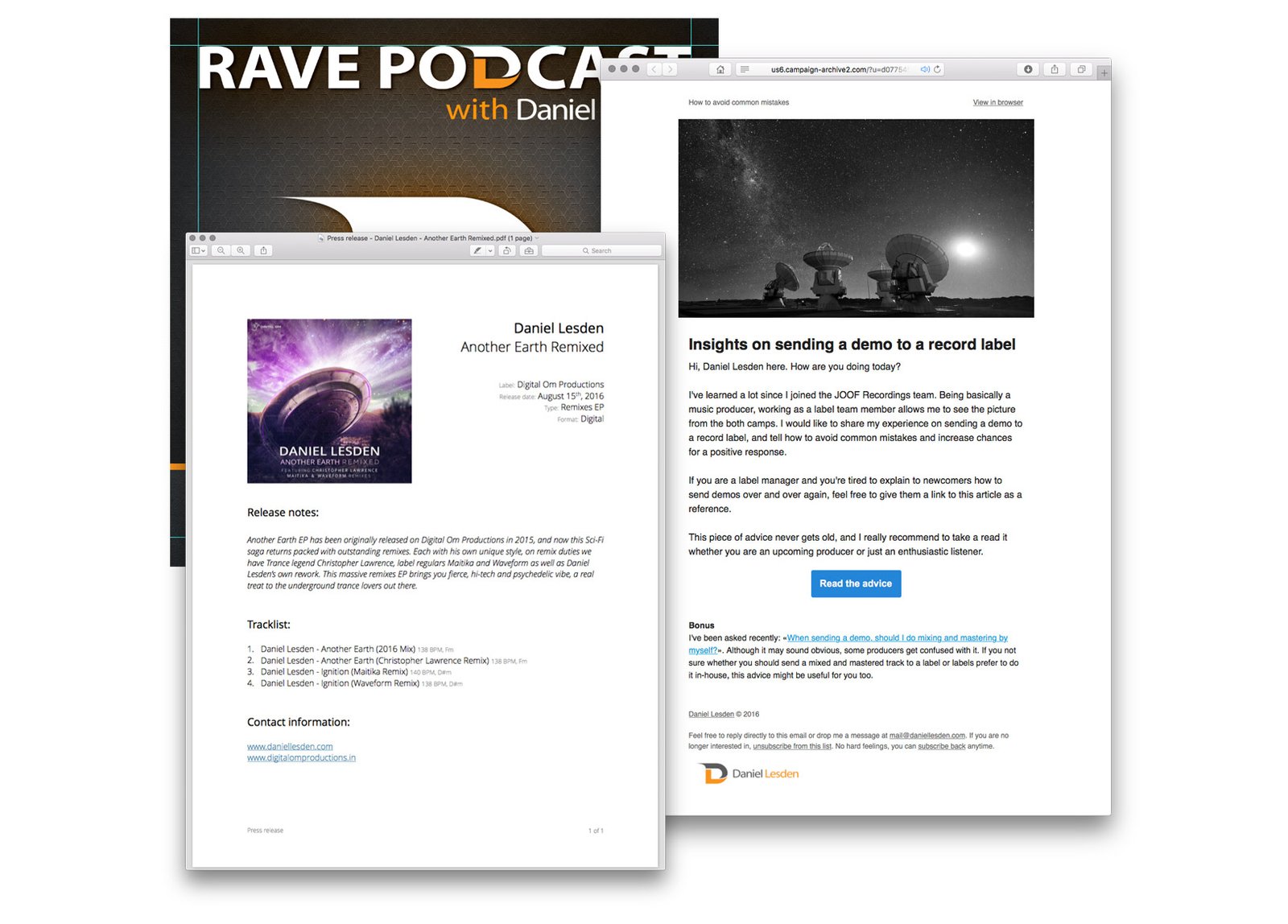 Use project template
When I work in Ableton, I always put a limiter on a master channel just for the sake of precaution, especially when dealing with a filter resonance while sitting in the headphones.
I also realized that every track a guaranteed has a kick, a bassline, a set of standards drums like closed hi-hats, open-hats, snare drum, and crash cymbal. So I was thinking if I always have these layers and a limiter on the master channel, why not pre-made all these channels and save it as default? And in fact, I did.
Now when I create a new project, it looks like this: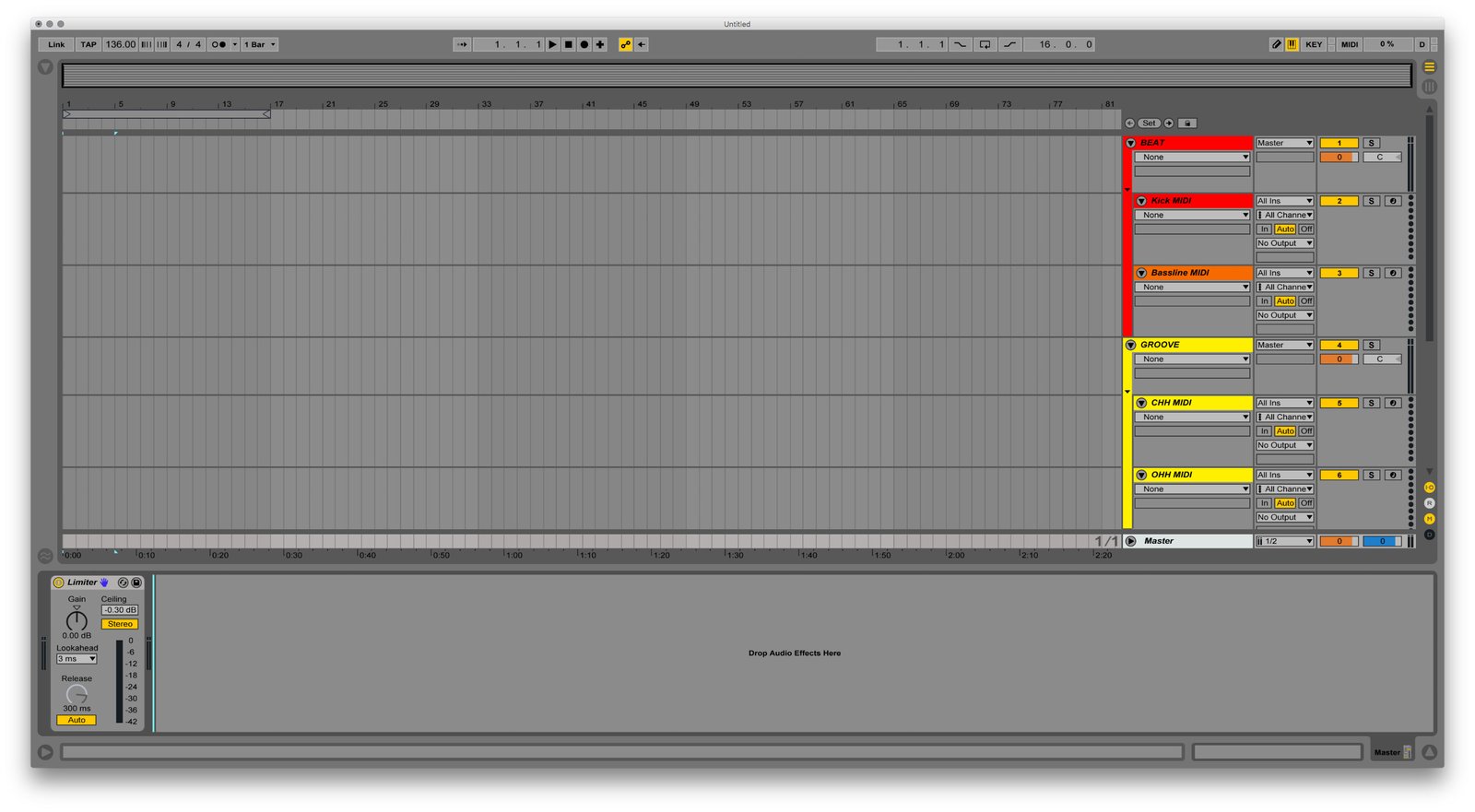 This default template doesn't have any actual sounds or plugins, it just a structure of pre-made channels, labelled with proper colours and text tags, just the way I like it. It allows me to instantly dive into creativity and start making actual music as soon as I open a new project rather than do some boring organizational stuff.
It saves time, too.
To save a default template in Ableton, go to Preferences (⌘,) → File/Folder tab → "Save Current Set as Default" → Save.
Bottom line
Templates are huge time-savers. Take notice of what you're doing repeatedly, whether it's replying to similar emails or posting the same kind of images in social media, and make template accordingly. This is when creativity comes in!
I hope your routine won't be the same frustrating as before.
On cover image: if I'd had my templates library existing in the real world, it would look like this. A frame of Jedi Archives taken from "Star Wars: Episode II — Attack of the Clones" (2002).