How I keep my important files convenient and stored safely
I have three computers: a large desktop for home, a laptop for travel, and a smartphone that I always carry in my pocket. And I have set everything up in a way that allows me to work from any of them at any time. For me, there is no such scenario where the file I need is left on another computer because I sync files using cloud services.
Most readers probably won't learn anything new, but in 2021, I still meet people who, when they lose their phone, worry that they lost their address book with important numbers along with it. So let me tell you how it works for me.
Why sync anything at all
It may seem that cloud sync is some kind of geeky or hipster thing. So here are some real-life examples of when it is useful:
Have a long commute? Start writing a blog on the phone and continue it later on the desktop computer at home.
Bored on a plane? Start making a track on a laptop and then I finish it off later in the studio.
Need a screenshot that you took on a desktop computer? No problem, open it on the phone.
Lost a phone? It's surely unpleasant financially and morally, but not a problem from the point of view of information: you buy a new phone, log in with your credentials, and it becomes exactly the same as it was.
Stand in line at the groceries store, and the promoter needs your high-resolution press photo for the poster right away? Just send it over from your phone since everything is in your pocket.
An hour before your set at the club, you realize it would be cool to add a track you left in the 'Downloads' folder on your computer? Just access that folder on the laptop and make the dance floor happy.
These are just examples, but in general, the main principle that I try to use is simple: always have access to the necessary files so that I can do my business at any time and in any place.
Easy access to important files is the ability to do business anywhere
Photos, notes, to-do lists, calendars, contacts
I use iCloud to sync my photos, text notes, to-do lists, calendars, address book, and phone backups.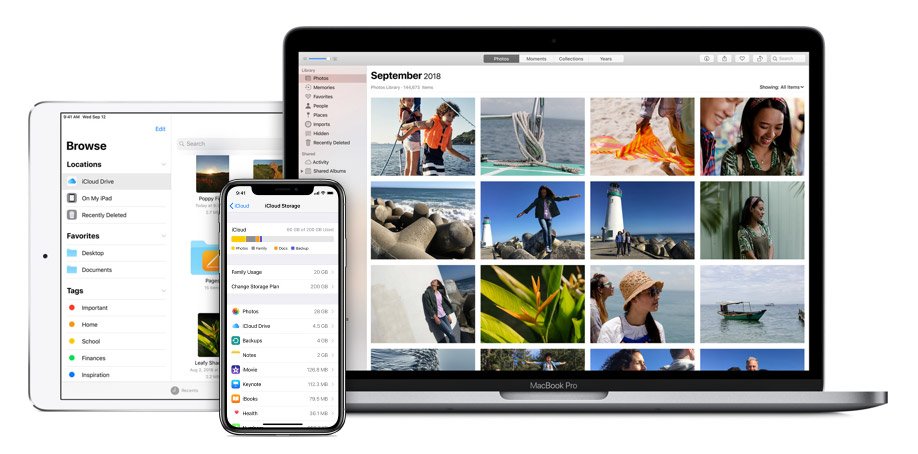 iCloud is Apple's cloud service, and I love how conveniently and seamlessly it works within their product ecosystem. Maybe there is something similar for Windows computers and Android phones, I don't know. iCloud comes with all Apple's devices by default, so you don't have to do anything to make it work – it just works.
iCloud comes free with a small capacity, but you can pay extra and increase its space:
| | |
| --- | --- |
| 5 GB | Free |
| 50 GB | $0.99 |
| 200 GB | $2.99 |
| 2 TB | $9.99 |
The free plan is enough for syncing text files, to-dos and calendars, but not enough for photos. I use the 200GB plan because I have a large photo archive – about 22,000 photos and 1,300 videos. This plan (and above) can be used for a family of up to five people.
iCloud is especially cool with photos. I have a 128GB phone, most of this storage is constantly occupied by music, yet I can browse almost two hundred gigabytes of my photos. How so?
The thing is that if I don't open some photo for a long time, iCloud leaves only a low-res version of it on the phone, thus freeing up space. However, as soon as I need this photo, the high resolution version is unnoticeably downloaded from the cloud in the background.
Music library, personal and shared project files
I keep my entire twelve-thousand music library, Ableton projects, samples, design layouts, web, graphics, and other stuff in Dropbox.
Dropbox is a cloud storage service that integrates into your computer's operating system. It looks like it's just a local folder, except that all of its contents are accessible on all of my devices. And that's awesome!
For example, if I need to send a heavy file to someone, I just right-click on it, copy the link and send it to the recipient, because the file is already in the cloud. No file-sharing or waiting for a download.
The cost of Dropbox depends on the capacity and features:
| | |
| --- | --- |
| 2 GB | Free |
| 2 TB | $9.99 |
| 3 TB | $16.6$ |
I use the latter plan because I store a lot of stuff there, and I also like some of the features.
The best part is the ability to selectively sync files and folders. You can leave some files only in the cloud, freeing up space on your computer, but still see those files locally.
Here is a real-life example. My main desktop computer has 3 TB of disk space. Almost a third of it is taken up by my music library. At the same time, my laptop is 512 GB, but in iTunes, I can always see all the tracks of my collection and I can download or upload them back to the cloud at any time.
Documents and spreadsheets
For many years now I have been using Google Docs instead of the archaic Excel and Word. They are basically the same text editor and spreadsheets tools, but online, which makes them accessible from all devices. Google Docs are easy to share with other people, and I personally really enjoy working in them.
No more "Oh, I left the Word file on my work computer so I can't send it to you until Monday" nonsense. As a nice bonus: Google Docs is also free.
Passwords, payment details, document numbers and scans
Have you ever had a situation where you couldn't remember the password to a site or service and couldn't recover it? Or that you needed to send a scan of your passport for some business, but had no way to scan it? Or that you had to fill out your insurancy policy number somewhere, and you don't know where it is?
Well, it used to happen to me all the time, so at some point I got a password manager. Out of all the cross-platform apps, I liked 1Password best in terms of its features and interface, and I still use it.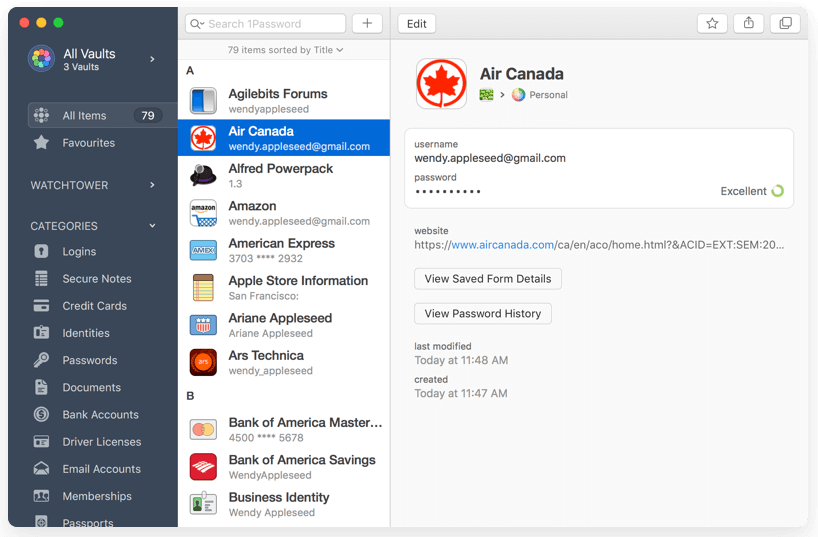 1Password can store everything: logins from websites and social networks, document scans, bank cards, domain mail details, server and database settings. All of this data is stored encrypted and can be accessed using a master password (or fingerprint or facial recognition on Apple devices), which is not stored anywhere.
The service is available in two models: one-time purchase or subscription.
Backup of everything
At last but not least, backups. In case Dropbox or any other service I rely on will stop working at some point, I keep all my files on another, independent backup server. I use Backblaze for this purpose.
It works like this. You install the app on your computer and tell what do you want to back-up (the entire computer or individual folders) and when (continuous, scheduled or manual). I chose to back up everything every day, and that's it – I sleep well.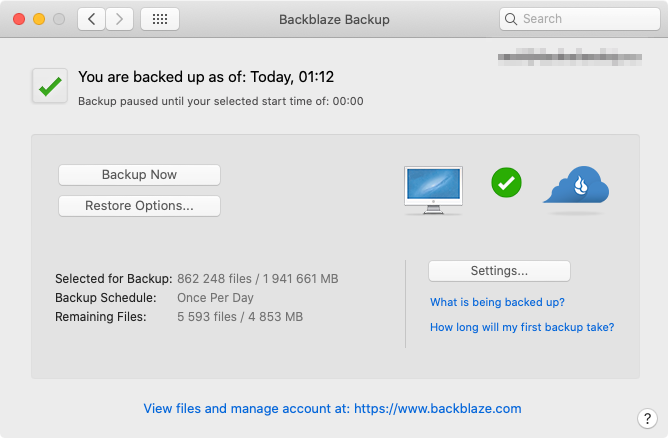 It is important to understand that Backblaze is a backup service, not a file storage. In fact, it is a mirror that keeps an exact copy of your computer on its servers: if you delete a file from your computer, it will also be deleted from the cloud. This is to ensure that if at some point you need to restore all the data from a backup copy (let's say, if your hard drive crashes or your computer is stolen), the cloud will have the most recent copy.
And since these backups are stored in the cloud, they can be downloaded on another computer or even on your phone. Very convenient.
Backblaze costs $60 per year and has unlimited storage. If you sign up using my referral link, both you and I will get a free month.
Perhaps after this post someone will say that One Drive is better than Dropbox. Or that it sucks, you should use Amazon Drive. Or that all of the above are bullshit, only your own server can be trusted. But none of that really matters at all. It is important to take care of the convenience and security of your work and personal data, which apps or services you choose is completely up to you.