Live Q&A with John 00 Fleming and Tim Penner
Livestream highlights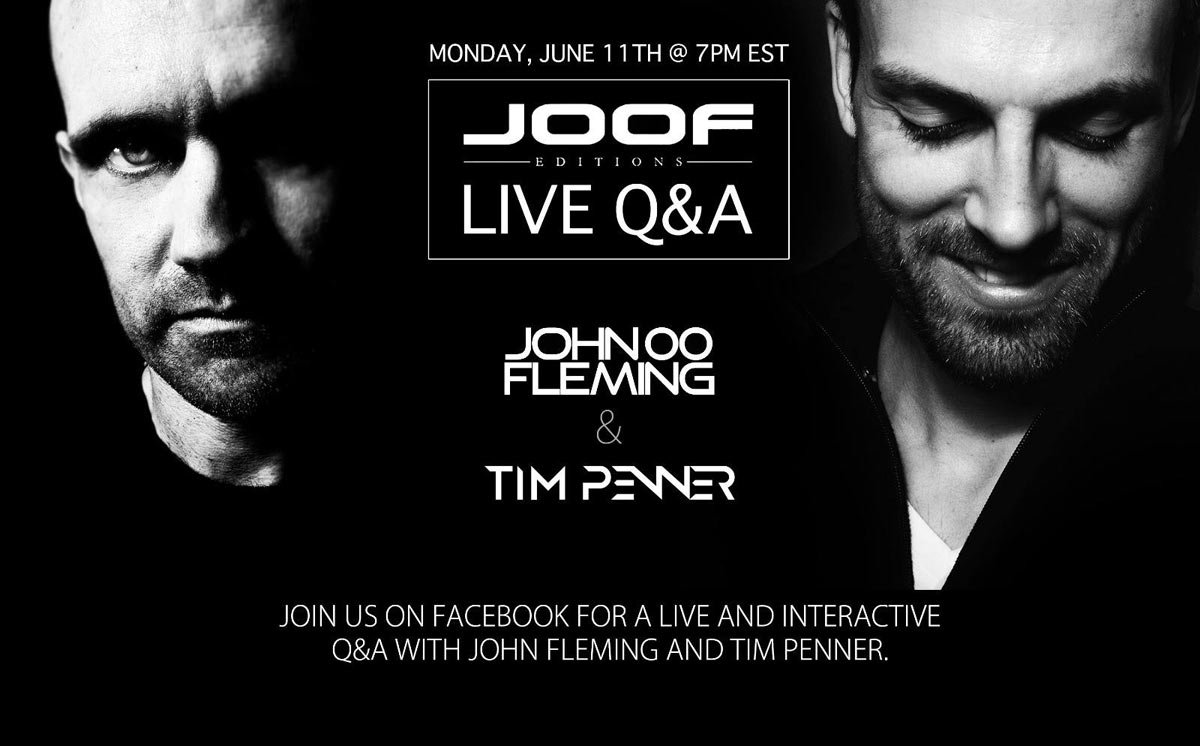 Two of my favourite artists, John 00 Fleming and Tim Penner, hosted a fantastic Q&A live stream yesterday that was full of insightful information and motivational speeches that every producer (myself included) should know. Seriously, go watch that video if you missed it live. It's 2-hours long, but it's worth it.
For those who don't have two spare hours, I've written a quick summary to highlight some of the most important quotes from these two masters. And in such way, it's also easier to come and read this again at any time.
On social media
I feel sorry for the next generation. Running a specialist label you definitely get to work with super talented producers and DJs, but they can't make a career because they don't know how to handle social media or they not doing it whatsoever. And it pains me because that person should be on main stages on the festivals and have a fruitful career, but they haven't because they don't understand social media and not doing what they should be doing.
Music is used to be first, and if you were a good DJ, you're good to go. Now it's the other way around. If you good at social media, your career will take off regardless of what you got behind you, the music comes afterwards. Nail the social media, and then worry about the music afterwards. It pains me to say, but that seems to be the way it is today.
Nail social media, and then worry about the music afterwards
On organising music
I can only answer from me personally. I organise playlists as the tools that I need in hand. I never pre-plans set at all, I woke up to every single gig whether I playing an hour set or a 10-hour set, I never know what I'm going to play until I step up to the stage. But the way I've got my playlists it's the musical tools that I know, let's say 'Progressive' which is deep and melodic, you got 'Progressive' which is dark and driving, you got 'Trance' which is driving, 'Psychedelic' which is deep.
I must have to have about thirty different playlists, but the key to me is learning the tracks. It's identifying by looking at the track exactly what it's gonna do as soon as you start playing it.
Sometimes I secretly spy on other DJ's playlists, when they come along playing before or after me and they got the USB connected to the players. It just pains me that some DJs will have just twelve tracks and nothing else on the USB. I couldn't play like that!
When you first get tracks you don't really know how good is gonna be until you play it in a live situation. It might sound quite driving at home but when you play it a club it's not driving, so when I get back from the gig the first thing I do is spend an hour just going through memorising what I played and adding the extra notes.
What makes a good warm-up set
John 00 Fleming: The short and sweet answer is basically what you [Tim Penner] do. You got a respect the person that you warming-up for, you got to do your homework. And this is a big moment. What a lot of newbies think is their head is "Wow, this is my gig, this is my moment to shine, this is the moment my career going to take off!", and they just want to play a headline set in that warm-up set. But it does the opposite, you just really upset the DJ you suppose to be opening for.
The importance of proper opening DJs
The point is you've got to get people in the room, you got to keep your levels down. You don't want to walk in a club when everything is just screaming at you and you can't go to the bar, get a drink and hang out with your mates.
You want to warm-up slowly, but then when everybody standing around the dancefloor that's the magic moment — it's knowing exactly when to drop a track that has a bit more energy or familiar track, and that's when your levels come into play.
You got a respect the person that you warming-up for, you got to do your homework
Tim Penner: It is a really important job to be the most humble artist in that room: you're setting the mood and you're setting the vibe for the night. And the thing is that people are too smart now. They may not know that you are the best DJ in the world but they know that fit that motive perfectly for the night, and you set what that whole night is supposed to be about, people know this.
On productions skills
When new artists come into it, there is something that cool and hot at the time and that's what they wanna make. So it takes time to become a skilled producer, and they'll start to make that genre. So what you see now is all those artists starting to get better, they started to sound like that generic sound from four years ago. And when I listen to such music, I'm like "it's not current anymore, it would've been four years ago".
So the best turning point that also was for me is the hardest, is staying true to yourself but also looking ahead of the curve and seeing where the trends are going.
Keeping close to what you wanna make and expressing yourself through music while becoming more skilled as a producer, but not going by trends and trying to cut them off. Those artists that are cutting edge and trying different things, they are the one that stands out now.
On balancing production and life
This balancing production is a battle that every artist faces whether you touring or not, balancing life, in general, can be really hard. That could be one of the biggest hurdles for an artist to get over. You know, you have a family, a spouse, you have emergencies, and other things you want to do to fill your time with.
And wheater it's touring or Game Of Thrones, there's a balance between life and work. And you need to find that balance. Everybody faces this battle, and I think it's a number one reason why people give up.
You need to find a balance, it's a number one reason why people give up
On the mixdown
There are certain misconceptions about what makes a good track in the end. Mixdown and mastering, I think there are misconceptions about what that is, you know, a lot of artists will put sounds together and try to make a track and be like "well, we'll fix it in the end". But mixdown and mastering start at the very first sound that you put down, it's very important to understand the physics of the sound and what you are trying to accomplish.
One of the tricks with figuring out how to make music is how to make sounds sound full. A lot of people will just load their Ableton with a lot of sounds to make it sound full, when in fact the whole goal of making good-flowing music is to give each sound it's own space to move.
So that is actually a backward concept where you make a sound and you need to let that sound work its magic in its own space. It's not fighting with other sounds, and that's the key.
On sharing the knowledge
A lot of people keep things in secret, and if anybody knows me that followed me over the years, I'm an open book. And I think being an open book, sharing your knowledge and helping people is the best way to strengthen our industry, as opposed to keeping it sheltered behind your own wall.
We want to be around for as long as possible, that genre and our feeling, and the way to that is to embrace young artists, help them to get over the hurdles so they gonna be there decades down the road.
sharing your knowledge is the best way to strengthen our industry
Read also: Futurephonic live with Chris Williams and Regan Tacon