How much I earned on the album sales
Behind the scenes in facts and numbers
Last year I released my second studio album 2000 Years Ahead, my the most successful release to date.
Success shows in different ways: followers' growth, bookings, smiles on the dancefloor. But today I'd like to share specific numbers, and that is how I earned on the album sales. Just in time as I recently got a financial report from the label.
How many copies sold
The album was released in two formats: digital and physical. Label — Digital Om Production. At that time Bonzai Music was taking care of the digital distribution, whilst Arabesque Distribution for the CDs.
940 tracks and 140 CD copies sold so far
For the first quarter, people downloaded 940 tracks and purchased 140 CD copies.
Is that good enough or not?
Let me answer with the fact: the album was #1 on Psyshop and #2 on Beatport top charts for the whole month: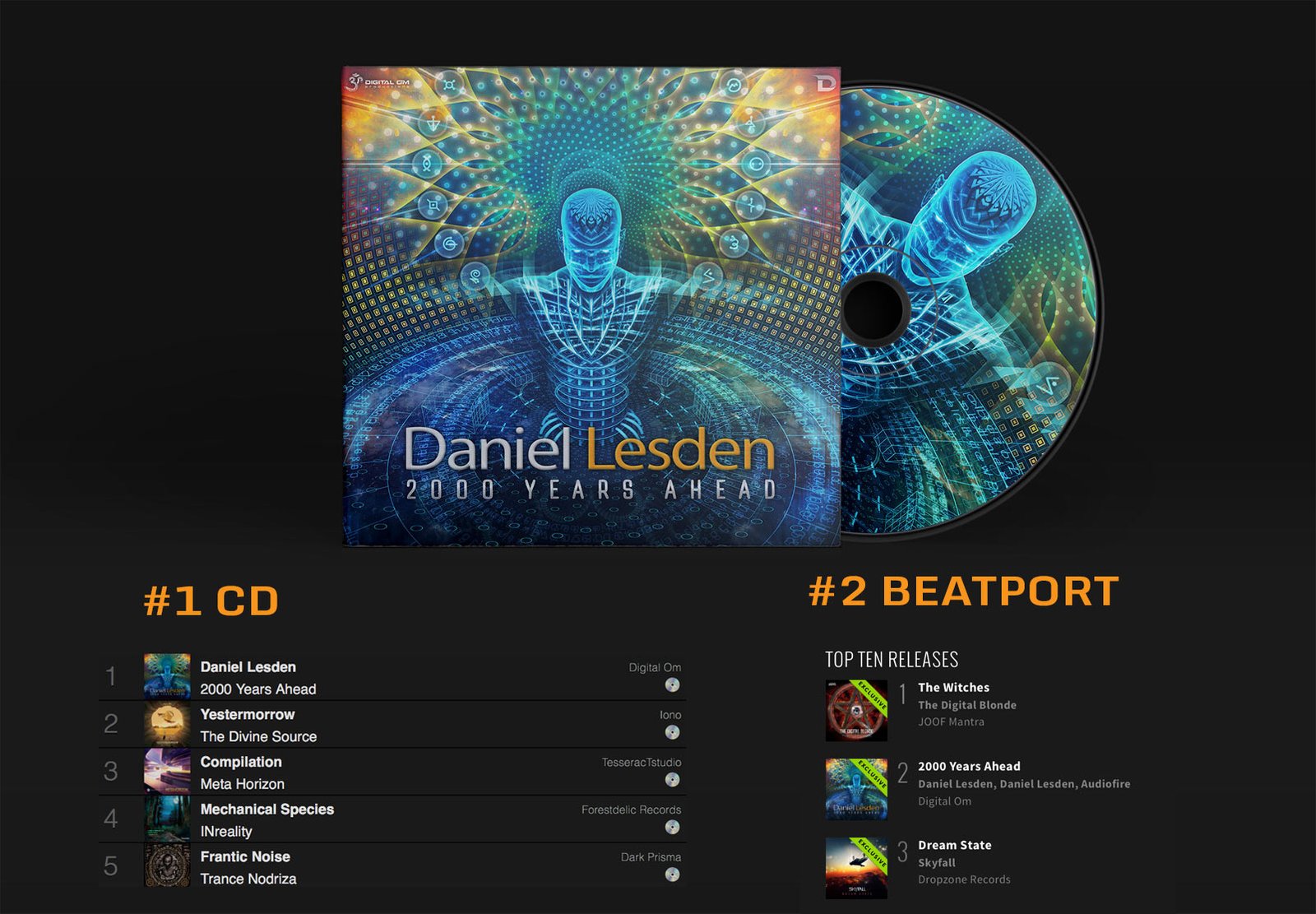 Overall, the album spent 18 days in the top-10 and 69 days in the top-100 on Beatport. Sitting in the charts for more than two months considered as quite an achievement.
How much I've got
Now comes the more interesting part. To be clear, all numbers below are net, i.e. after the deduction of the stores and distributors commission, which is roughly 50% depending on the platform and region. For example, when you see $1,99 retail price per track on Beatport, the real income from it is about $0,9. That's the numbers I'm operating below.
Stores take 20—50% cut from retail price
So, this is what've got from all sources — digital sales (including streaming), physical sales and sublicensing:
| | |
| --- | --- |
| Revenue |   |
| Digital sales | +€815 |
| Physical sales | +€610 |
| Sublicensing | +€200 |
| Total revenue: | +€1625 |
A thousand and a six hundred euros sound nice, right?
But revenue ≠ profit. The album also had some expenses on production and promotion that we have to take into account:
| | |
| --- | --- |
| Expenses |   |
| Mastering | -€225 |
| Artworks | -€200 |
| CD printing | -€300 |
| Logistics | -€100 |
| Marketing | -€100 |
| Total expenses: | -€925 |
Now let's calculate the profit: €1625 (revenue) – €925 (expenses) = €700. But we're not done yet since all profit splits between the artist and the label — that's a typical deal in the industry. So, then: €700 / 2 = €350. And that is how much I earned before taxes.
€350 is how much I've got a year later for the first quarter of sales
Added in 2021: I want to emphasize that all numbers above are given for the first quarter of sales only since the release date. For the last two years since I wrote this post, my total net profit from the album is over €1500, mainly due to streaming.
Now we can make a few conclusions:
Once again I've got a confirmation of my own words that a music producer cannot make a living on the music sales alone. I've written about it earlier and talked on my master class.
Music release is not only income but also expenses. And whilst you may not gain profit at all, it will cost you something for sure.
It's important to mention that in my case the label took all expenses since we already worked together and I got a trustworthy reputation. Keep in mind that not every label would want to invest a thousand dollars if you are a new producer with a debut release.
People still buy CDs!
Why I'm telling this
Perhaps, not everyone aware of that, but we actually have a problem in the music industry: many young producers expect to make a living on the debut release sales, then they see a financial report with a 2-digit number (or nothing, at all), start to accuse everyone around and eventually quit their career.
I'm sad to see these things happen all the time and hence why I share my experience on how things work behind the scenes.
I'd love to tell you that "I released my album and bought a house", but the truth is after a year of hard work and a fantastic appearance in the charts, the album sales directly gave less than a monthly salary of a janitor. That's the true story.
That's why you need to remove the pink glasses and start working hard — a something that musicians do not really like to do. And threat your music releases simply as a portfolio.
Bonus: stats
A financial report is not only about the money, it's also a lot of juicy data. I'll put some metrics that I find interesting down below.
Digital sales, by store:
| | |
| --- | --- |
| Beatport | 75% |
| iTunes | 18% |
| Juno | 4% |
| Google Music | 2% |
| Amazon | 1% |
Digital sales, by country
| | |
| --- | --- |
| USA | 20% |
| United Kingdom | 13% |
| Germany | 12% |
| Australia | 9% |
| Switzerland | 7% |
| Japan | 5% |
| France | 4% |
| Canada | 4% |
| Brazil | 3% |
| Finland | 3% |
| Netherlands | 3% |
| 26 more countries | 14% |
Streaming, by service
| | |
| --- | --- |
| Spotify | 50% |
| Apple Music | 38% |
| Google Music | 5% |
| iTunes | 4% |
| Deezer | 3% |
Streaming, by country
| | |
| --- | --- |
| USA | 10% |
| Germany | 9% |
| United Kingdom | 7% |
| Mexico | 6% |
| Russia | 6% |
| Netherlands | 5% |
| Switzerland | 4% |
| Australia | 4% |
| Japan | 4% |
| Sweden | 4% |
| France | 3% |
| Canada | 3% |
| 37 more countries | 25% |