Organising music library
Hi Daniel, I'm an up and coming DJ, and it seems my music library is getting out of control with all those countless songs and folders. Beatport Pro app looks attractive, but I found it more confusing rather than helpful. What is the best way to organize music library?
Eric H.
According to the entropy law, everything in the Universe goes from order to disorder. From structure to chaos. And we need to put some effort to keep things organized. I'm kind of obsessed with music and order, and especially when both things come together.
As a DJ myself too, I have plenty of incoming music: from stores, promo pools, demos, and so on. Also, I like to listen to podcasts and various 'non-format' music (the one I didn't play but just enjoy listening), so in total, it's a huge amount of new music every week.
Eric, I don't know the best way to organize music library, but I'll share the way how I do it, and it works just perfectly.
Basically, I'm using iTunes. This is essential. It's flexible, free, cross-platform app, made to be synced with mobile devices (needless to say how important to re-listen your playlists on the go), and easily integrated with pro-DJ software, like Traktor or Rekordbox.
Apple iTunes.
Free, OS X, Windows
First things off, iTunes organizes entire music library structure for you. No more need to create folders and move files across your hard drive. Let the smart machine do all dirty job.
To make sure it works this way, go to Preferences → Advanced, and turn on the "Keep iTunes Media folder organized" option.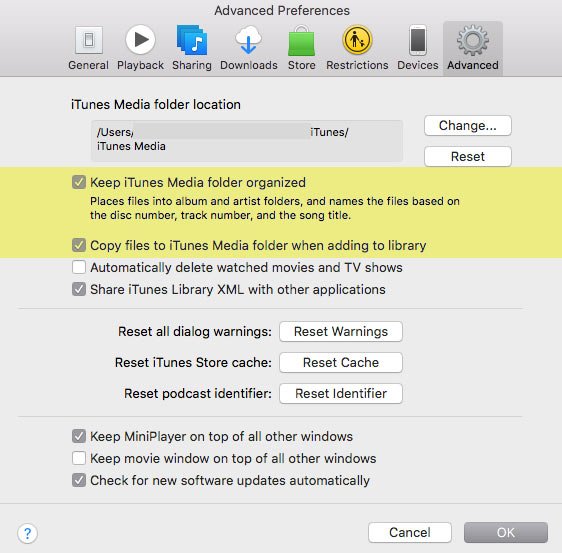 From now on, Just drag-n-drop files to iTunes, and it automatically put files in the right place on your hard drive according to ID tags:
~/Artist Name/Album Name/01 Track Name.wav
Probably, the only thing that missing on iTunes is BPM matching. What is a DJ's collection without BPM information, right? To solve this, I'm using Mixed In Key software. This app made for harmonic mixing, but it also matches BPM of the tracks. And what's most important, again, you don't need to do anything with files on your hard drive, like a move or rename it. Just drag-n-drop files right from iTunes to Mixed in Key, and that's it — you've got BPM information for your songs back on iTunes, automatically.
Mixed In Key
$58, OS X, Windows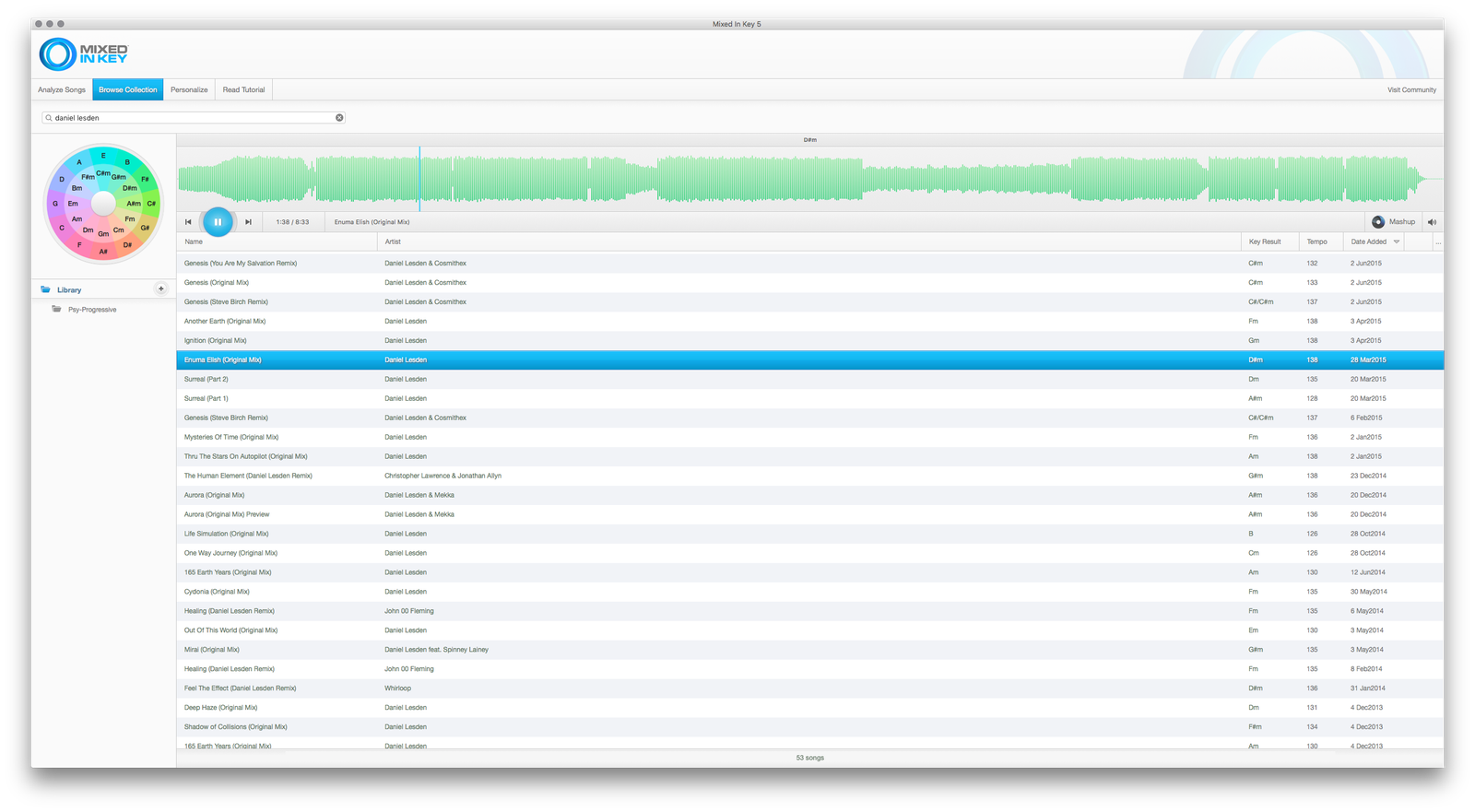 Now let's get back to iTunes. Having numerous new tracks on a regular basis, it's not an easy task to remember all of this. Which track makes you thrill, and which one is decent, but you won't play it on a peak time? What was its title? Here comes the rating.
I'm using star rating system to measure such parameters as production quality, richness of musical content, and energy level. These matters are subjective, but what's most important — it helps to sort out the tracks. To give an example:
Read also: Production quality vs. musical content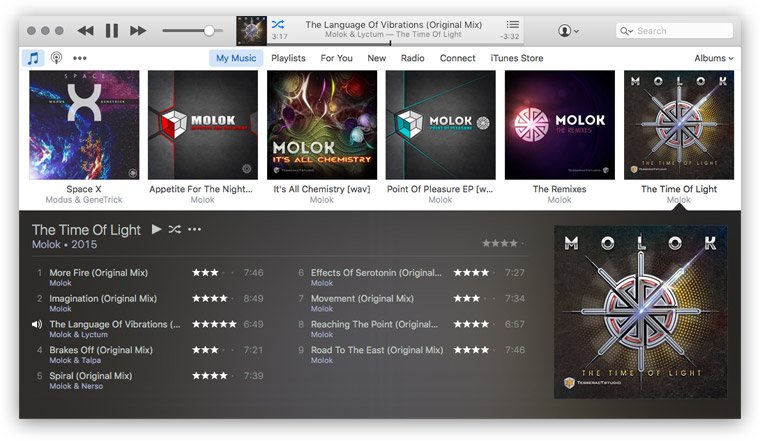 Another great feature that helps to sort out music is Smart playlists. In fact, it's dynamic playlists that update automatically when it matches the criteria you've set. Think about it as a filter. For instance, you would like to find Psy-Progressive tracks, in tempo range of 135–138 BPM, rated as 4-stars and above, and added to your collection in the last 4 weeks? Easy: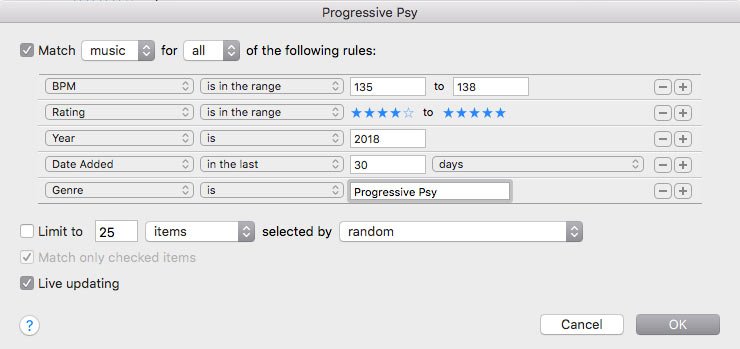 At last but not least — instant search. This is not a marketing trick, it's really instant. The secret is the following: all information about your entire music library is just a small text file. So once you type a search request, iTunes search inside this text file — not across all your hard drive — so you get search results in a blink of an eye. Do you looking for tracks from a specific label, let's say, JOOF Aura? Here we go, all releases found even before I finished typing: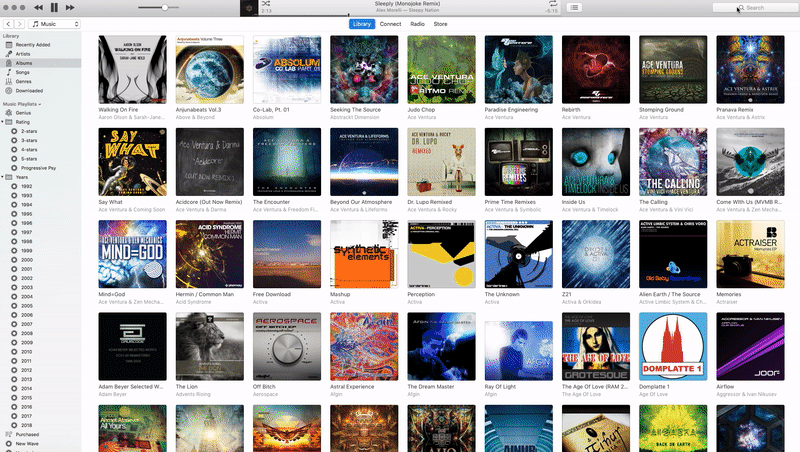 I tend to agree that iTunes isn't perfect, there is plenty of room for improvements. But I'm using iTunes for nearly 5 years, and it solves the task excellent.
Dear readers, if you know viable alternatives, feel free to share your experience in the comments below.