How I got a Global Talent UK visa: a comprehensive guide and my experience
In March 2023, I got a Global Talent visa and moved to the UK. Surprisingly, not many people seem to know about this type of visa, so I'd like to tell about it and share my experience. You might find this article especially useful if you have been thinking about immigration.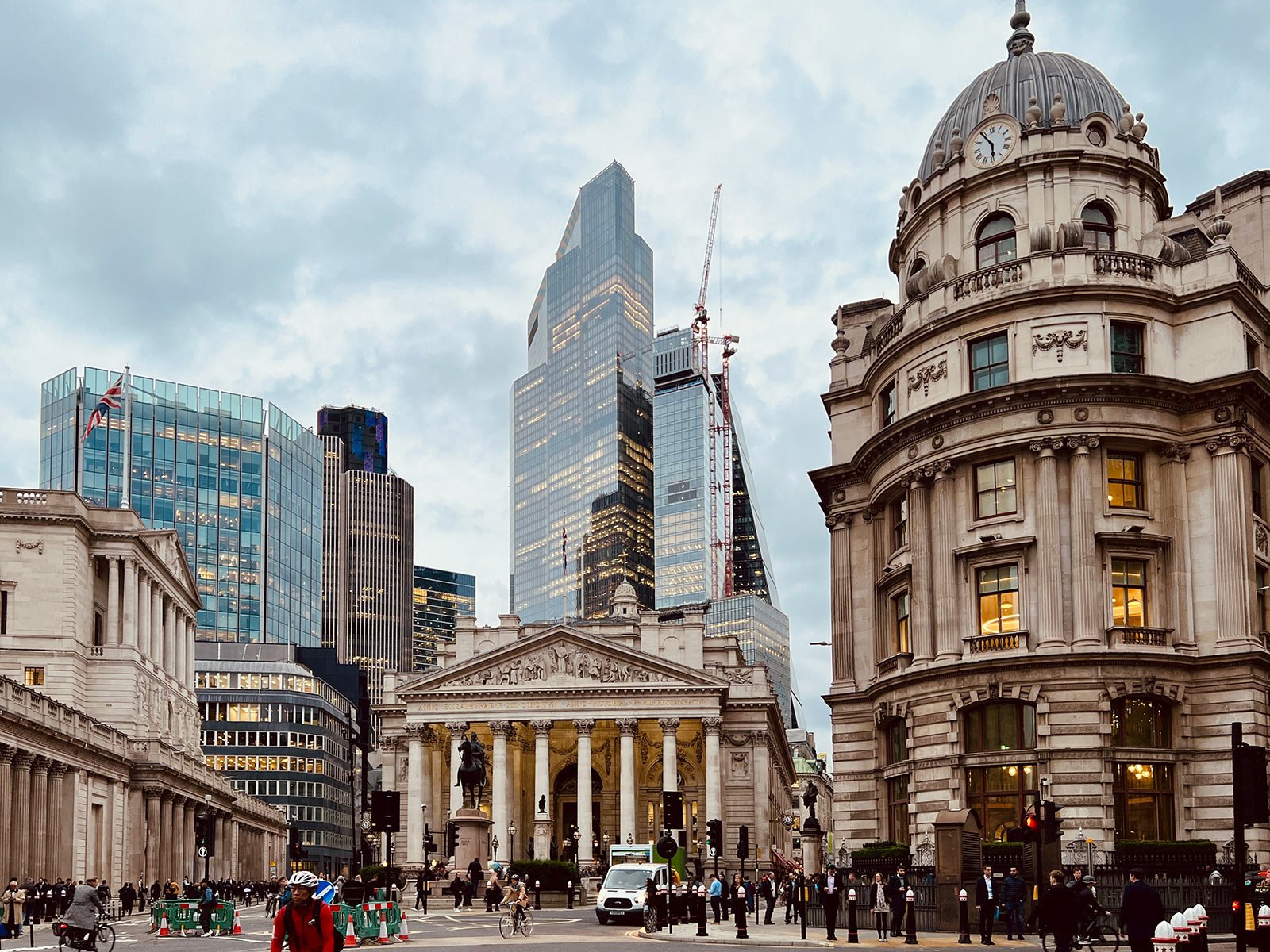 Overview
The Global Talent visa is for people in science, art, culture and digital technology.
The visa allows you to live and work legally in the UK for up to five years. After this period, you can either extend the visa or apply for permanent residence and, later, if you wish, for citizenship. It also allows you to bring your family – your partner and children – with you.
The visa can cost about £3000 per person if you do all the paperwork yourself without the help of a specialised firm. This is how I did it. Below I will explain in more detail what this amount consists of.
At the end of the process, you will get a Biometric Residence Permit or BRP card, an internal document that you can use to open a bank account, get a tax identification number and do other sorts of things in the country.
It took me five months all the way from "never heard of this type of visa before", researching and collecting the documents to getting the BRP. I will also write a detailed timeline below.
Difference from a usual work visa
When thinking about a work permit in another country, the first thing that comes to mind is a work visa. In the UK it is called the Skilled Worker visa.
In theory getting a Skilled Worker visa is easier because most of the bureaucracy falls on the employer. So you can apply for a job from abroad, have an interview and get an invitation to work along with your relocation to the UK.
But there are nuances:
Not every company or profession qualifies for this visa. The government's website has register of approved companies and list of professions; if yours is not on these lists, sorry.
Not every company, even on the register of approved companies, would want to recruit a foreigner, i.e. you. There may be all sorts of reasons: from the fact that it is trivially more expensive than hiring local specialists to some kind of internal restrictions. That is exactly what happened to me. For the last 12 years, until September 2022, I worked in the Moscow branch of a major international corporation. They have offices almost all over the world, including the UK. When I left Moscow, I hoped to get a job in their London office: after all, 12 years of experience and an impeccable reputation with the company, including letters of recommendation from the very top. It turned out that I was not allowed: the internal regulations did not allow them to hire me for the UK, despite all my merits. In fact, that is why I started exploring other avenues, and to my good fortune, I found out about the Global Talent visa.
With a Skilled Worker visa, one becomes tied to an employer. If you want to move to another company, you have to leave the UK and start again. Or if the company does not do well and you are made redundant, you will also have to leave with your things. In general, this visa offers little or no social security. As someone with a family, for me this is the biggest disadvantage.
You also have to take an English test, show proof of income and have a certain minimum amount of money in your account.
The Global Talent visa, on the other hand, requires nothing more than proof of your talent and yet allows you to do almost anything. You can work, or you can choose not to work. You can change jobs without restriction. You can start your own business or be a freelancer. You don't have to demonstrate your English skills or your income.
I am aware of only two restrictions on the Global Talent visa: you cannot work as a doctor or a professional sportsman, and you cannot claim public funds: benefits, allowances, pensions and such. Other than that, you are free to live and work as you wish on this visa.
Preparation and categories
When you read the general description and requirements for the visa, you find wordings like "exceptional talent", "acknowledged leader", and all that sort of thing. And in between, they say, "Well, if you have Oscar or Grammy awards, click here". You read it and think, "Wow, that's a little too much! I don't have any of that. Apparently, I don't fit in. This visa is not for me."
The most important part of moral preparation: don't be intimidated or tricked. You don't have to be a world star at all. If you have any success in your field, that might be enough. In my experience, this visa is not about talent per se but about your willingness to make it, your determination and your ability to fulfil the requirements.
In my experience, the Global Talent visa is not about talent per se, but about the willingness and commitment to make it through
The Global Talent visa comes in two categories: Exceptional Promise (someone who looks promising) and Exceptional Talent (a recognised leader).
The main difference between these categories is that the path from Exceptional Promise to indefinite leave to remain would take at least 5 years, whereas from Exceptional Talent, it would take only 3 years. And Exceptional Talent is also cheaper because you can pay less for insurance (more about below). Anyway, in case it's not clear, Exceptional Talent is better.
It's up to you to choose which category you apply for. The important point here is that if you apply for Exceptional Talent and are told that you do not meet their criteria for a recognised leader, you may be given Exceptional Promise. If you apply for Exceptional Promise, you can get Exceptional Promise only. So my advise is to always apply for Exceptional Talent even if you not sure whether your case is strong enough.
Stages and costs
Globally, the visa process consists of two major stages, which are called Stage 1 and Stage 2 in the official documents.
At the first stage, your task is to get approval from the cultural institution. The thing is, at the Ministry of the Interior, where visas are usually issued, officials check all sorts of formalities: border crossings, income, employment, criminal records and so on. And how do they know whether you are a talent in the field of culture and science or not? So first they send you to the relevant organisations, which are better qualified to deal with the matter.
The cultural institution from which you have to get approval depends on your field of work. The whole process is called endorsement, and the institution that issues it is called the endorsing body. This is the most important and the most difficult stage.
The visa costs £623, and this amount has two parts: £456 for the endorsement application and £167 then for the visa application. At the first stage, you will need to pay the first part of this amount, i.e. £456. This is all done online from anywhere in the world. If your endorsement is not approved, you will not get your money back. You can try again by paying the same amount again.
At the second stage, once you receive the endorsement, apply at the visa application centre. This means you physically bring the documents to the specified address. If you are obtaining a visa for the first time rather than renewing a previously granted visa, you must do so while notin the UK. This is already a purely formal step and you are almost 100% likely to be granted a visa.
According to the rules, you can apply from any country where you have permission to stay for 6 months or more. However, I have read cases where people have applied from countries with legal residence less than this period. If this is critical for you, look into this point further. I have not encountered it because applied from Israel.
At this stage, you need to pay the remaining £167 for the visa and, most painfully, £624 for health insurance (Immigration Health Surcharge) for each year per person. For children under 18 the amount is slightly less, £470 per year. And another £55 for a visa centre fee.
Total cost:
| | | |
| --- | --- | --- |
| Service | Promise (5 years) | Talent (3 years) |
| Visa | £623 | £623 |
| IHS | £3120 | £1872 |
| Fee | £55 | £55 |
| Total: | £3798 | £2550 |
You do not have to apply for the maximum visa period all at once. You can choose from 1 to 5 years, for example if you can't afford to pay that much for your insurance all at once. However, you will have to pay £623 for the visa again when you extend it, so making a one-time payment for the whole term is the cheapest option.
Anyway, here's what it all looks like and how much it costs. And now for the details.
Choosing the field of work
Before you start collecting documents, you need to decide in which area you will be applying. As I wrote above, you will have different endorsing organisations depending on your field, and they have slightly different application requirements and specifics.
Here are what options are available:
| | |
| --- | --- |
| Academia or research | Science; medicine; engineering; humanities |
| Arts and culture | Combined arts, dance, literature, music, theatre or visual arts; architecture; fashion design; film and television |
| Digital technology | Financial technology; gaming; cyber security; artificial intelligence |
I applied in the following category: Arts and culture → Combined arts, dance, literature, music, theatre or visual arts → Music → performing DJ, music producer, curator, events promoter.
The endorsing body in my field is called Arts Council England. Please note that as I have applied under this category and through this organisation, all my experience is of them only. If you are applying in another field, make sure you look into their requirements.
A full list of requirements as well as the specific disciplines in which to apply in arts and culture is available in the official guide from Arts Council England. Be sure to download and study this document carefully.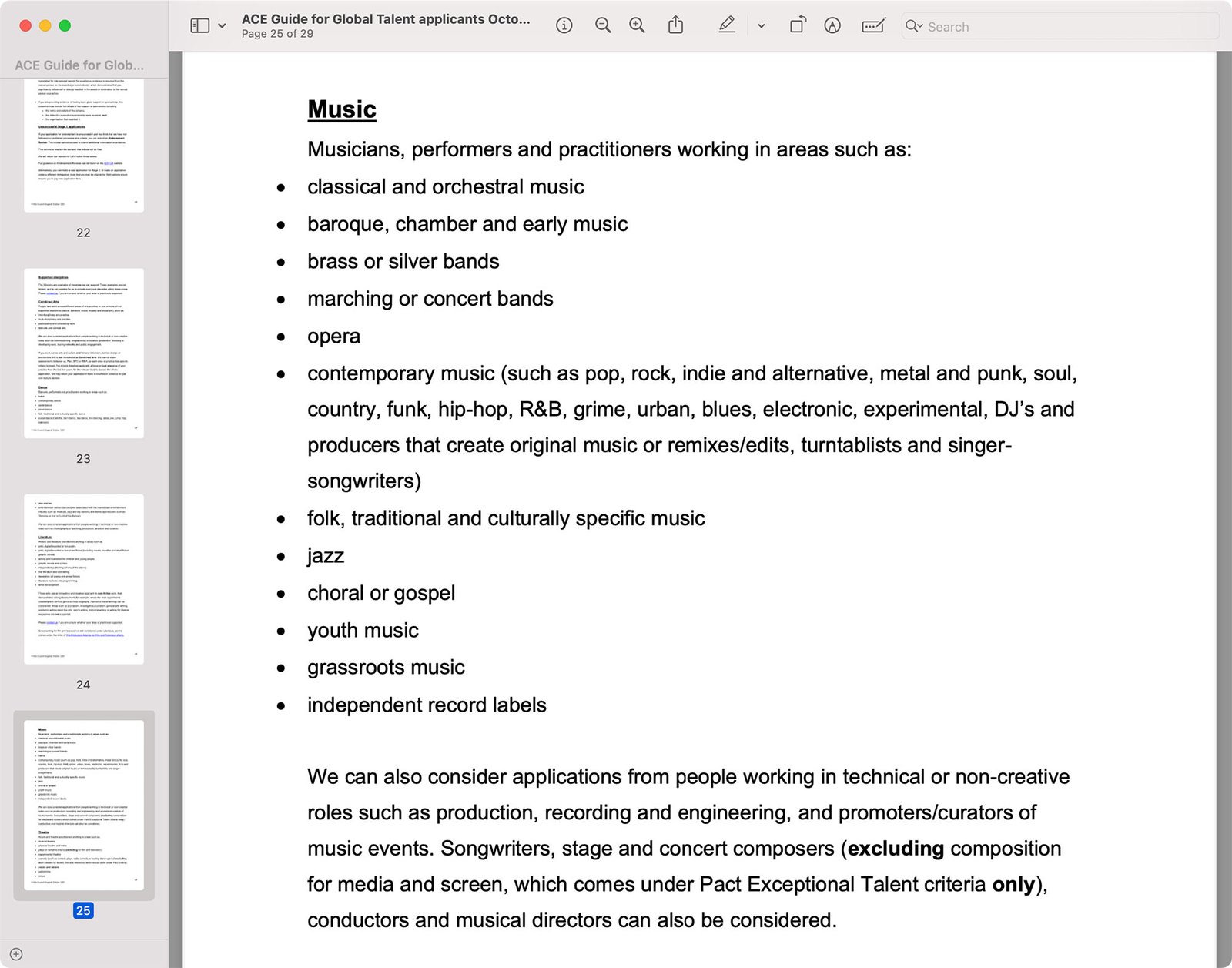 Stage 1: Endorsement
To apply for endorsement, you need to provide 13 documents :
3 letters of support from organisations with international professional recognition with whom you have previously worked.
The letters should describe how you met, the things you have done together, your achievements and how they think you can enrich the cultural life of the UK. The latter is particularly important: not what the UK is good for you, but what you can do for it. It is very important here to outline what specific plans you have for the country in the short term.
The first letter must be from a UK organisation. The second letter can be from any international organisation. The third letter can be from either an organisation or an individual who is also a well-respected expert in your field.
All letters should include the company logo, full legal address, date, signature, and brief company information or biography of the author so that it is clear who exactly is recommending you. Only senior executives of companies may sign letters.
A tip: When asking for a letter of recommendation, prepare and send a draft yourself so that the person only has to tweak the details and sign it. That way, you have a much higher chances to the get it.
10 supporting evidence of your professional activities. These documents, in turn, should be in at least two of the three categories:
Media recognition: independent reviews, critiques and evaluations of your work in the form of articles on websites or magazines. Interviews are possible but not desirable.
International awards: any prizes, or even prize nominations, that showcase the quality of your work.
Proof of appearance or any other professional activity for which you are applying.
There should be at least two media coverage. Otherwise, it is up to you to decide on the proportion of these documents, as long as they do not exceed ten in total. For example, you could have three media recognitions, five awards and two appearances. Or whatever else you like.
There should only be one point per document: one performance or one article, for example. Roughly speaking, you cannot name a document "All my performances abroad" and fit all your tours into it. Each document should be no more than two A4 pages long.
Two important restrictions:
All evidence must be no more than five years old. Showing an award you received six years ago, unfortunately, is not possible.
You can't use blogs or social media. If the poster of your most important performance is only posted on Facebook, it won't count as evidence, sadly. Only websites or magazines.
Be prepared that people in the endorsing organisation might google you. Make sure that searching for your name will show some relevant results. The same goes for the companies from which your letters of recommendation will come.
There are no special rules about the layout of the documents – do as you like. There is only one requirement, though: if you show a screenshot of the website as evidence, save the page through the print version so that the date and the link to the source are automatically inserted in the footers.
I can show you one of my documents as an example, there is nothing secret about it: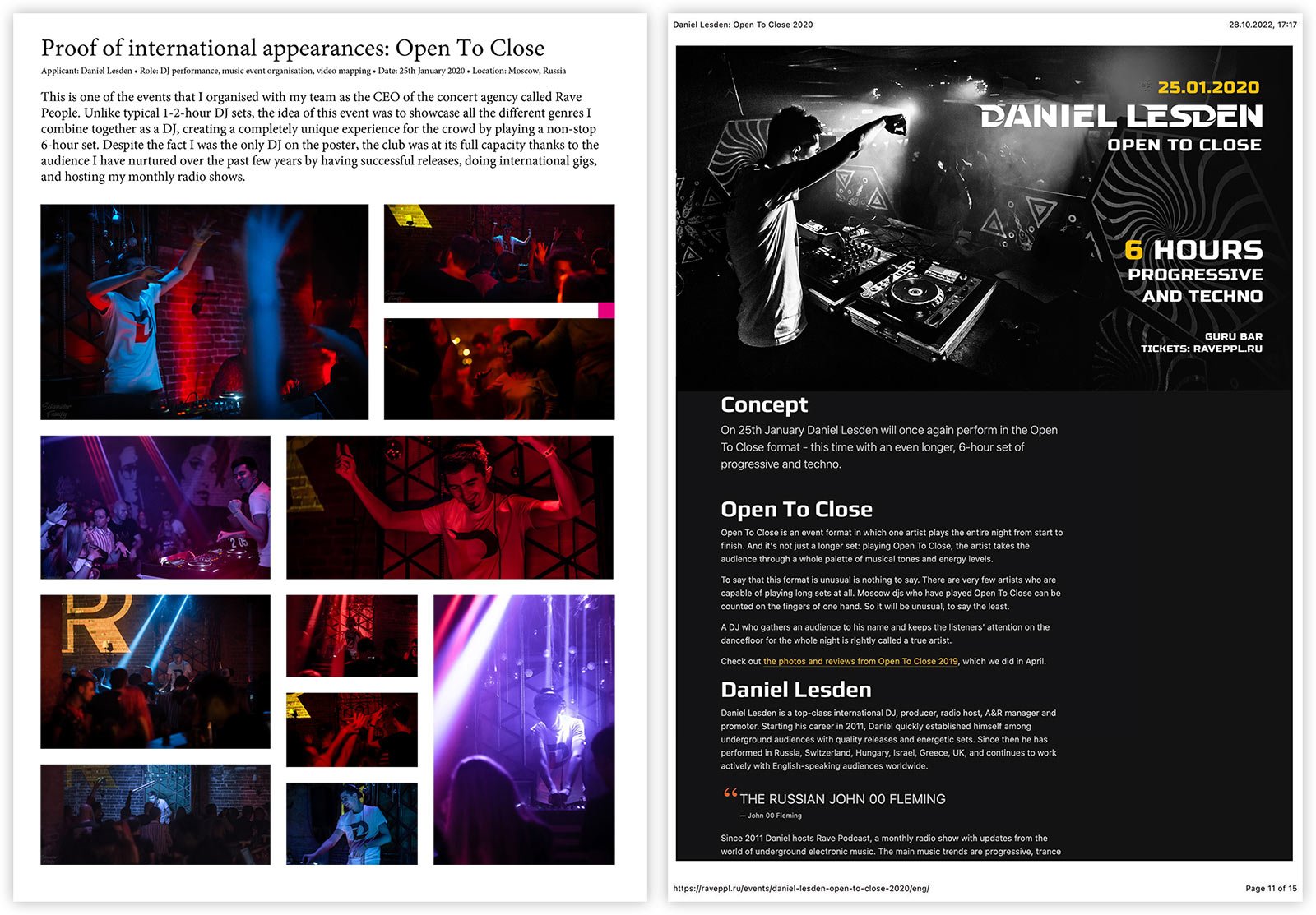 Note that this document lists my stage name and not my real name. This is fine: when you apply, you can give different variations of your first name (transliteration, maiden name and the like) as well as your stage name.
Some may ask: "What if I don't have an award, a media mention or other necessary document?". Well, this is the main challenge of the visa! Remember what I wrote in the beginning about determination? Write, seek, communicate, ask. There is no universal recipe here, but I am sure that everything can be solved.
Once all the documents are collected, you can apply for endorsement. You will have to fill in a huge application form and pay the first part of the visa fee. After you have completed all the steps, you will be given a precious email address to which you need to send all the documents. All files in the attachment should not exceed 25 MB in size.
So this is what my final list of 13 documents I sent to Arts Council England looked like, in terms of document ratio:
Evidence 1. Media recognition
Evidence 2. Media recognition
Evidence 3. Media recognition
Evidence 4. International award
Evidence 5. Proof of appearances
Evidence 6. Proof of appearances
Evidence 7. Proof of appearances
Evidence 8. Proof of appearances
Evidence 9. Proof of appearances
Evidence 10. Proof of appearances
Letter 1 (UK)
Letter 2 (USA)
Letter 3 (UK)
The whole process of studying the requirements and collecting documents took me just over a month. I suspect that this time varies greatly for everyone: the more real success you have, the easier it is to prepare the documents, and vice versa.
Once the documents have been sent, all you have to do is wait. And I can tell you from experience, it's quite an emotional time.
I got a decision after three weeks:
From this point, the timer starts: endorsement is valid for 3 months. If you do not apply for the second stage within this time, the endorsement expire, and you will have to start again.
Step 2: visa application centre
If you were in the UK as a tourist while applying for stage 1, like it did from London, you now need to leave the country. You must apply for the second stage only outside the country.
The goal at this stage is to make an appointment at the visa application centre, where you then go at the scheduled time and hand in your documents.
Just as in the previous step, you have to fill in a huge form, at the end of which you have to pay for insurance.
After the payment, you will be given the opportunity to make an appointment on the visa application centre's website. When you get to this stage, please note that there are two types of entry: the so-called self-service and assisted service. The difference between the two is that with self-service, you upload your documents online yourself; with assisted service, you bring copies of your documents to the visa centre, where they are scanned and uploaded onto the website for you. I chose the first option because it seemed more convenient to me.
Here are the documents I uploaded online:
Scans of all the passports I listed on the application form
Endorsement email
I should point out right away that in addition to these documents, you also need tuberculosis certificate, and this is a bit tricky. Only those who have lived in these countries in the last six months need a TB test. It includes Russia but not Israel. And the test can only be done in UK-approved certified clinics. At the time when I made the appointment at the visa centre, there was no such clinic in Israel because Israeli residents do not need this test, so I just physically couldn't do the test there.
I would say ahead of time that they were not happy with this, and I was told to send them the certificate. And right at the same time, the UK website suddenly listed Israel as one of the certified clinics! Anyway, of course I did the damn test and everything turned out fine, otherwise you wouldn't be reading this post now, but it cost me a lot of nerves. So I highly recommend that you take care of that certificate beforehand and get it done wherever you can.
After the appointment, you will also be asked to download a checklist with a list of documents that you will need to bring with you to your appointment. And there is this: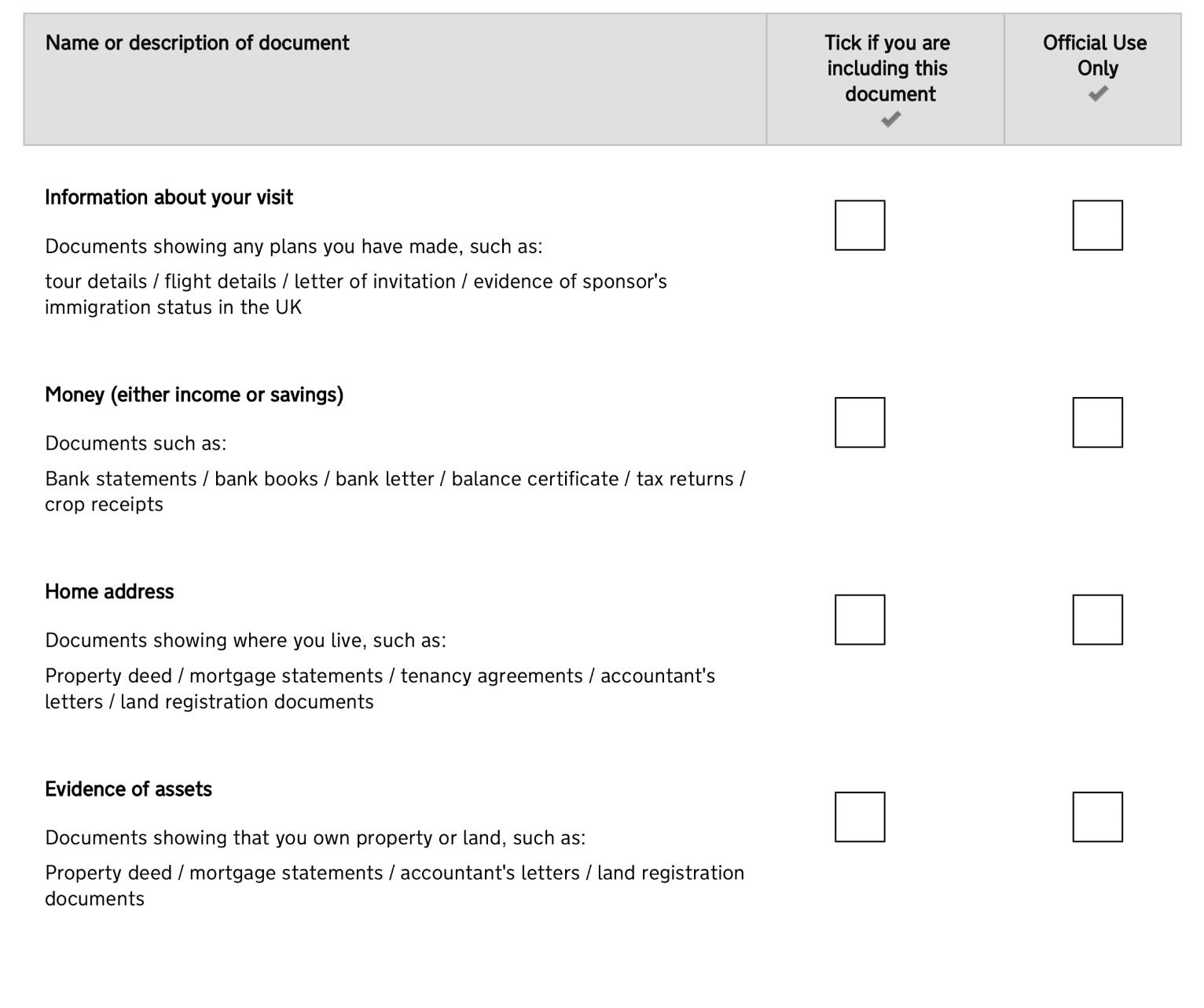 "Visit information, savings, real estate".... er, what? I was also scared at first, but then I realised: they have a general checklist for all types of visas, including regular tourist visas, so all of the above does not apply to the Global Talent visa. Phew!
In the end, I only needed the first sheet of the printed application form and my passport at the reception at the visa centre.
Bear in mind that your passport will be taken from you while you wait for your visa, which can take up to 8 weeks. If you want to keep your passport with you, you can use the Keep My Passport service for a fee. This service costs an additional £55 and is only available online, before your visit. This service is not available at some visa centres.
Then the procedure is the following: your passport is sent to the Decision Making Centre, a vignette is stamped in it, then they return your passport, and then you can fly to the UK with it.
Exactly 15 days after the visit, I received this email from the Decision Centre: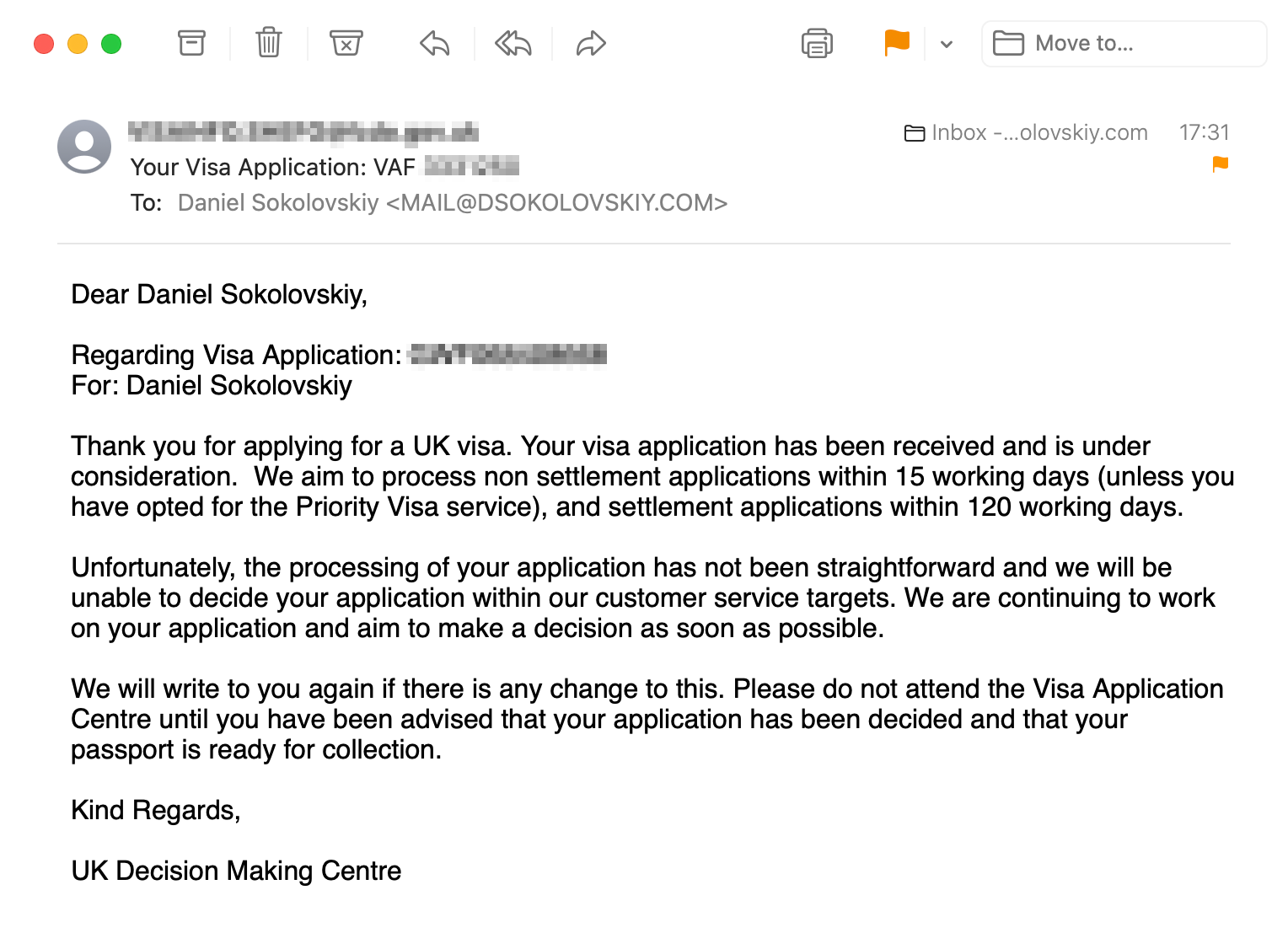 It sounds very scary, especially those "unfortunately" and "120 working days". However, if you get this too, don't be daunted: it's their standard automated email. Basically, they just apologise for not giving you 15 days to process your application as they would have liked. Another phew!
I got my passport back after 8 weeks and 5 days, delivered by a DHL courier.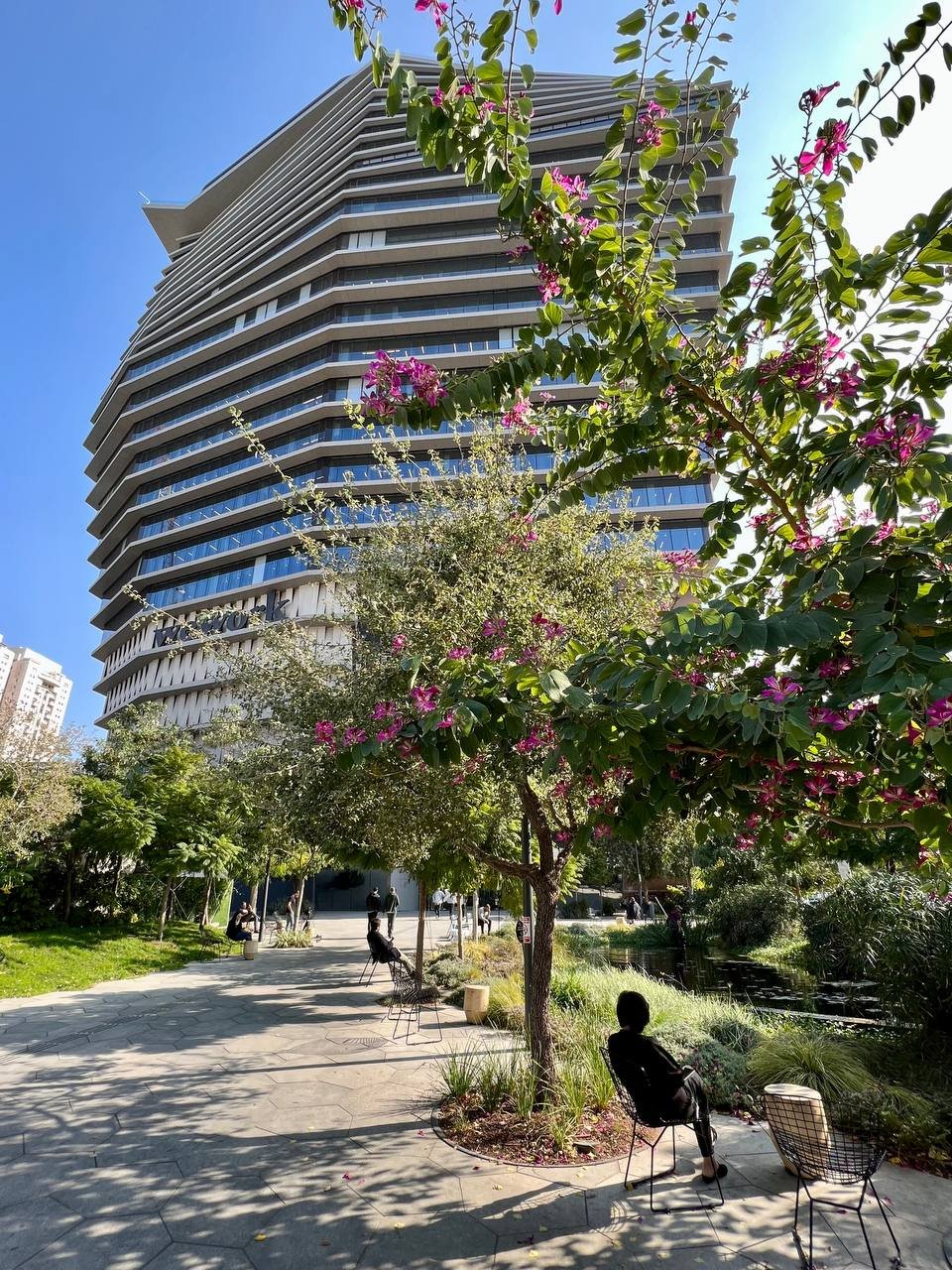 By this time, you should have a BRP waiting for you in the UK at the post office you specified on the application form.
From now on, you are practically a full-fledged UK resident, and a new chapter begins with all the bureaucracy and difficulties of finding accommodation, opening a bank account, and so on. But this is a whole different adventure altogether.
Timeline
Here's the final timeline in my case:
| | |
| --- | --- |
| 13 Oct 2022 | First heard about Global Talent visa |
| 28 Oct 2022 | Applied for endorsement |
| 22 Dec 2022 | Received the endorsement |
| 23 Dec 2022 | Applied for the visa |
| 3 Jan 2023 | Went to the visa centre |
| 23 Feb 2023 | Got an email that I must send a TB certificate |
| 27 Feb 2023 | Sent the TB certificate |
| 1 Mar 2023 | Got an email my passport had been dispatched for delivery |
| 5 Mar 2023 | Received passport with visa stamped on it |
Family
As I wrote above, the Global Talent visa also allows you to bring your partner and children with you:
husband, wife
civil partner
unmarried partner
children up to 18 years
They get a special status dependants which means that they are directly dependent and tied to your visa. If you decide not to renew your visa and leave the UK, they will also have to leave the country with you. However, they can live and work legally for the duration of the visa, as can the main holder of the talent visa.
Dependents don't need to get an endorsement, but they will still have to pay the full cost of both the visa and the insurance. The cost is the same as for the main talent: £623 for the visa and £624 a year for the insurance. For children under 18 the insurance is slightly cheaper, £470 a year.
The most unobvious part: the dependants don't have to wait for the decision on the main talent in order to apply. This is not explicitly written anywhere, and in a way it is even illogical: how can one apply to be dependent on a visa which has not even been approved yet? Well, it turns out you can.
Indefinite leave to remain
For me, the visa is only the beginning of the journey and not the end goal, so I have studied what to do next. I should say though that this part is all theory, so take it with a grain of salt.
After a few years on your visa, you may be able to apply for permanent residence so that you can continue to live in the UK without a time limit and have access to social security benefits. It's called Indefinite Leave to Remain, or ILR.
gov.uk/indefinite-leave-to-remain
For Exceptional Promise category holders, the minimum time to apply is five years, and for Exceptional Talent it's three years.
However, this is not the case for dependants: dependants can only apply for ILR after five years, even if the main talent has received the Exceptional Talent category and thus can apply after three years.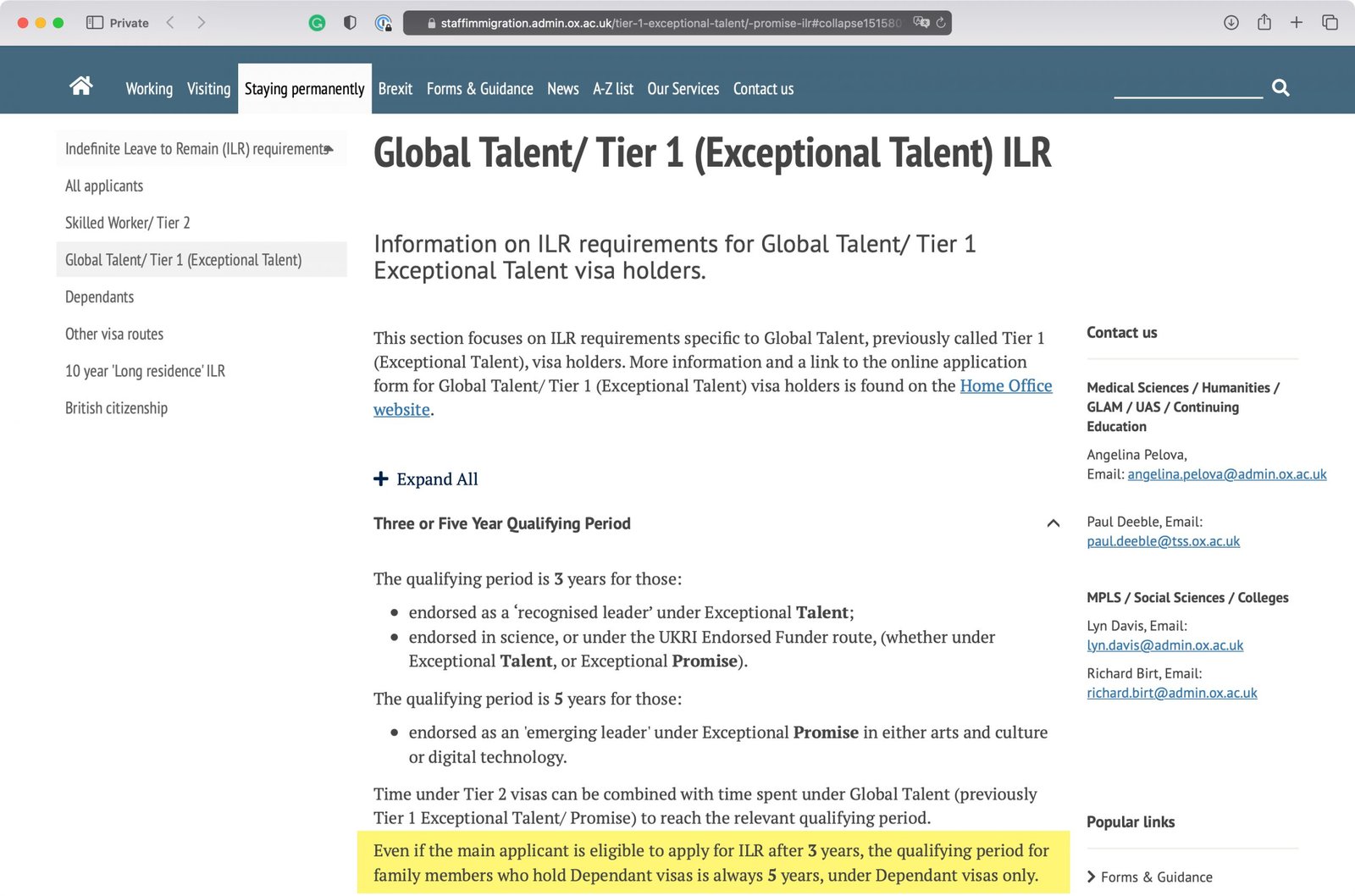 I was very surprised by this rule, and it doesn't make any sense to me. In practice it means that your dependants will have to pay for all five years of insurance anyway, regardless of your Global Talent visa category.
To get ILR, you need to show that you had income from the professional field for which you got the visa. What exactly the income should be, I have not yet figured out. They say that employment documents, receipts and bank statements for at least three months would be suitable as evidence.
Also among the requirements are to be out of the country for no more than 180 days in a year and to pass language and UK life tests.
Unlike the visa, a permanent residence permit has no time limit, but you can lose it if you leave the UK for more than two years.
The cost of applying for ILR is £2404.
Citizenship
Finally, the final point of this journey is citizenship. You can apply for citizenship after five years of living in the UK, of which at least one year is with ILR. Keep in mind that it is the actual time spent in the country that counts, minus any trips abroad.
gov.uk/apply-citizenship-indefinite-leave-to-remain
Once you have completed the procedure, you will receive a blue passport with the royal crest on it, which serves both as an internal BRP replacement document and as an external one for travelling abroad.
The UK supports dual citizenship. But what about three citizenships and whether it would cause any problems, I'm not sure yet.
The cost of applying for citizenship is £1330 for an adult and £1012 for a child. If a child is born in the UK while both parents already have an indefinite leave to remain, they are automatically granted citizenship.
⌘⌘⌘
I hope this post will help someone or at least provide information to make an informed decision. Thank you for reading.
If you have any questions during your Global Talent application process, feel free to post in the comments, and I'll do my best to answer them.
Taking this opportunity, I want to thank everyone who supported me during that time, which was (and frankly, still is) the toughest period in my life ever. I wouldn't be able to make it without your help.
⌘⌘⌘
Please note: As I'm receiving lots of emails with questions, please let me clarify that I'm not a lawyer or an expert on this visa. In this article, I just shared my experience of how I got it, and therefore I have no way of knowing whether your case would be successful. I also can't share my other documents apart from the ones already mentioned in the article. If you have a question, please write it down in the comments section below, so other contributors can potentially read and answer it too.
Good luck!