Managing a record label duties with Trello
An insight look at an A&R routine
When I joined the JOOF Recordings team as an A&R assistant in 2015, things were done using the typical tool that everyone uses — email. Each release goes through various steps, such as getting the mastering done, getting the artwork done, arranging remixes, making sure everyone got what they needed etc. So as a big label that typically has a few dozen of upcoming releases in the pipeline, we had a bunch of emails sent back and forth. The problem was obvious: it was difficult to get an overview of the pipeline and hard to track the individual status of each release.
Eventually, I came up with using Trello as a mission control centre for our releases, and in this blog, I'd like to tell more about it. Perhaps, my experience will be helpful for other label managers out there, and for regular listeners, it might be just an interesting insight look at an A&R routine.
What is Trello
If you have never heard about Trello and don't know anything about it, I suggest watching the Getting Started With Trello or read the Beginner Tips for Using Trello first to get an idea of what this service is all about.
Basically, Trello is a free web service for organising stuff. One of its common applications is using it as a Kanban board, with cards moving across that represents a task in a production process. Like this: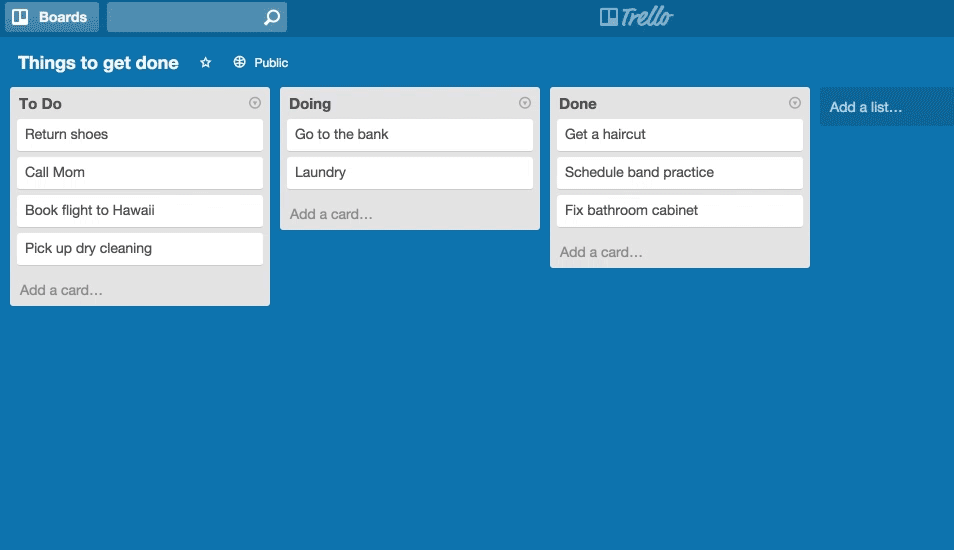 This concept allows you to get a big picture and see each individual task simultaneously in a nice visual way, something that a typical to-do list fails to achieve. It is commonly used for software and web development, marketing, customer support, and other teams and businesses.
The workflow
Our board has lists that represent the workflow and cards that represent releases. Here are the lists:
| | |
| --- | --- |
| Forthcoming | For releases that we're expecting in the foreseen future, usually from the label's artists. E. g. "A follow-up EP from John" |
| New demos | For incoming demos that we found something worthy and for the releases from the previous list once it's done. Here we have our internal discussion on whether this particular release fits or not |
| In Progress | For approved releases from the previous list. A release in this list means we're currently working on the mastering, the artwork, the remixes etc |
| Submitted | For releases that are good to go and submitted to the distributor. Once a card is here, we just wait for the release date |
| Released | For released titles that are out in stores, our back catalogue. It means our job is done here |
| Rejected | For tracks that don't fit JOOF for any reason. Rejected demos go straight here from the second list above |
| Profiles | For cards that include our artist information: name, contacts, address, pictures etc. We use it a shared contacts book and for the contracts |
Feel free to use these lists as a template for your label board too.
Here is the overview of our JOOF board just to show you how these lists look like visually (all text labels are pixelated on purpose, for obvious reasons):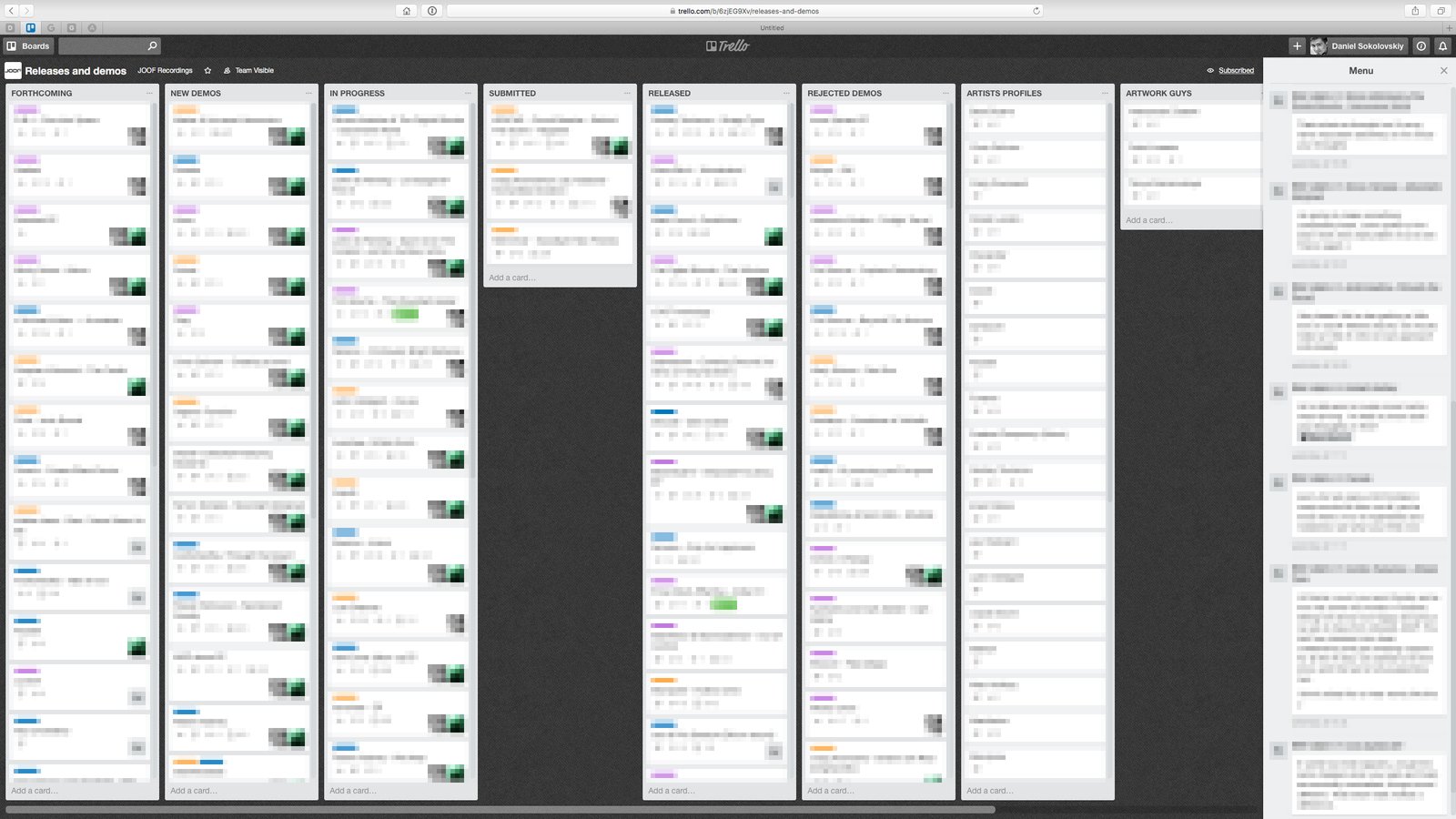 Even though the pixelated filter you probably see some colour strips on the screenshot above — that's the labels, a sort of a tags system built in Trello (I will call it tags to avoid confusion with the word "label" in this context). You see, recently JOOF Recordings launched two more labels under its wings, JOOF Mantra and JOOF Aura, so formally speaking we're managing three labels at once at this Trello board. And this is where those tags come really handy.
Here are the colours of the tags we use corresponding to each:
| | |
| --- | --- |
|   | JOOF Recordings |
|   | JOOF Mantra |
|   | JOOF Aura |
Such colour code helps dramatically as I can instantly tell what's status in each of our labels just by looking at the board. And of course, I can also filter these tags or just search when I need to find something specific.
Card details
You probably noticed some square icons on the screenshot above, they are visible even through the pixelated filter. Let me show you a zoom-in screenshot of a card:

See my user icon at the bottom right corner? Since here at JOOF we have several people receiving demos, we assign a person who manages that particular release to avoid miscommunication. A kind of "account manager" in sales and customers relationship.
For example, if I see an icon of my fellow colleague Gary, I know that he's taking all communication with that artist regarding this particular release.
If you open up a card, it shows all the juicy details such as attached files, lists, due date, and the chat our team have about this release. Here's how it looks like: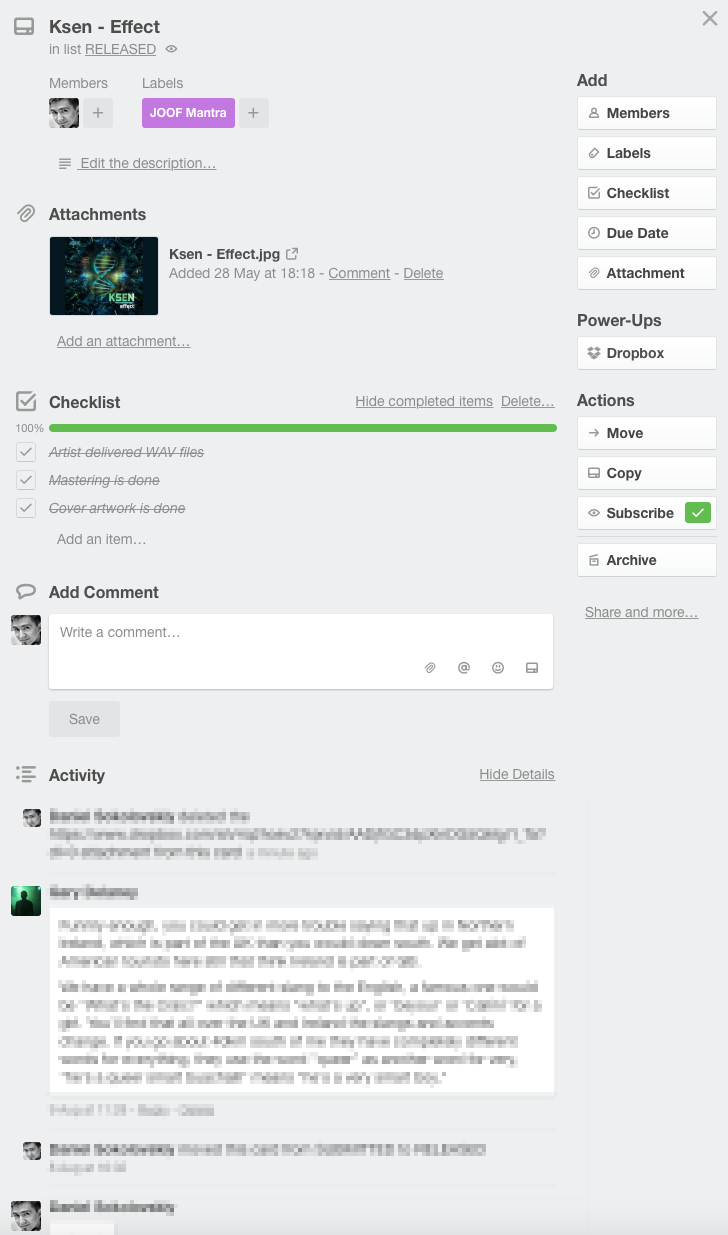 Well, that's pretty much it. Trello is a great tool for collaboration and management, but its application can go far beyond this. Personally, I also use it for tracking my radio show, vlogs schedule, gigs database, and so much more.
Feel free to ask if you have any questions, I'll keep the comments box below open.