Making atmospheric effects
Hey Daniel, I've always wondered how does well-known psy-producers (such as yourself) create atmospheric SFX? This also includes complex zaps, squelches, just the overall SFX that you often hear in today's psy-trance. How is it made? Do you make it from scratch? Or use samples? Thanks :)
Timothy Bourne
Timothy, I can't speak how other producers do their atmospheric effects, I can only tell how I do this. It's also hard to say how to make some sound without knowing exactly what kind of sound do you mean by 'atmospheric effects', so I'll go over general idea.
In my opinion, two things are crucial for making effects: knowing how to use audio processing devices and creativity. If you know how to use reverb, delay, gate, compressor, phaser, vocoder etc, you can turn pretty much anything into an effect.
Here are a few examples of how I do atmospheric effects in my production.
Reversed 'woosh' with gate
A simple detuned chord stab:
Adjusting ADSR envelopes and adding a long reverb:
Then I reverse it and add some gate:
Rolling texture
Now something different, with more texture. I'll start with some simple saw wave stab with a bandpass filter:
Then I turn on the arpeggio to add some rolling pattern, and also add some long delay to keep this roll going longer:
This already sounds good to me, but we can make it more interesting by adding a high-pass filter and a pinch of metallic flavor: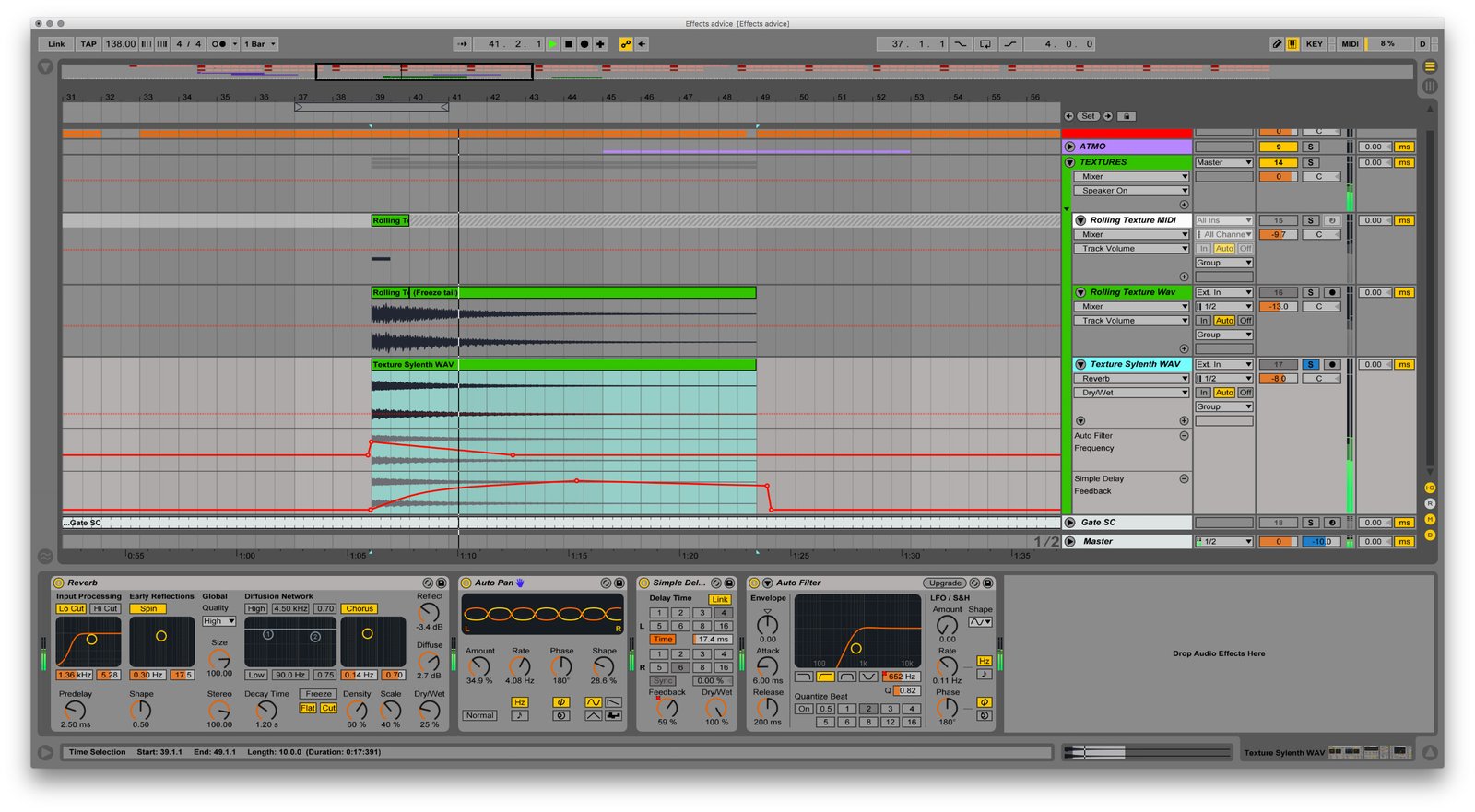 Pitch-shifted gate pad
For this example I'll take some ordinary string:
We can achieve some interesting pitch-shifted effect simply by modulation Pitch-bend wheel on top of some extra reverb:
Let's make this effect more driving by adding gate:
Background atmo lead
Now let's try to change some ordinary lead into a smooth background atmospheric effect:
Tweak the synth a bit, add reverb, filter automation, and auto pan as a 'sidechain' effect, and we'll get this:
Just to put into perspective:
This is it, that's how I usually do effects. This is not a 'how-to' guide, but rather just one of the way of making it, approach.
Some of these examples are taken from my forthcoming album
Zaps and squelches you've mentioned have a slightly different approach, it's more about synthesis rather than processing and maybe I'll go over it next time.