What should I post on social media as a music producer
What should I post on social media? Do you have any ideas? I'm also trying to find someone who can help me with posts.
From the previous question of Timothy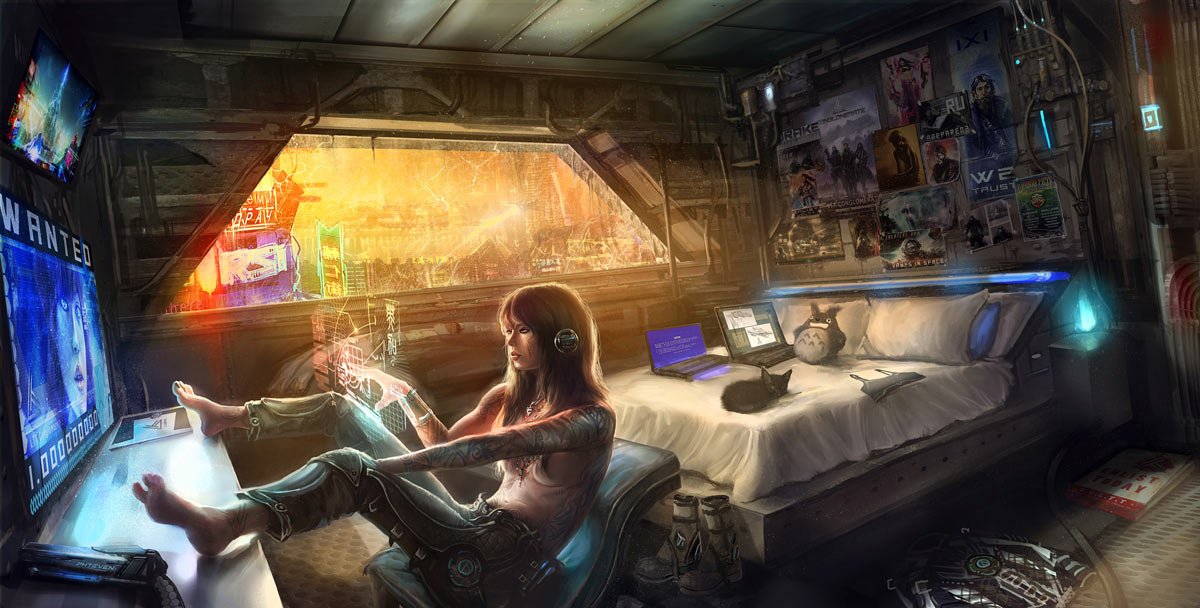 Before answering these questions, I'd like to make one thing clear first.
There is no one ultimate winning strategy for social media content that would work for everyone. Some people engage their audience by posting funny pictures, others prefer to make it strictly business.
Whatever way you choose, I suggest being genuine. I know words like "be yourself" sound cheesy, but once you accept where you currently are it'll be much easier than pretending to be someone else. Music producers are different from corporate companies in a way that our communication is much more personal. Behind every alias and track is a real human being, and people feel that too.
Nevertheless, I know where this problem comes from. Look at any successful artist's social feed and most of the time you'll see either his upcoming gig announcement or photos and videos from the past gigs. But what if you don't have twenty gigs a month yet? And obviously you can't upload a new track every week either, so "I don't know what to post on social" can be a real issue.
Well, here are some ideas for you. Keep in mind this is not an instruction but rather general categories of a content that you could possibly post as a bedroom producer:
| | |
| --- | --- |
| Making-of's | Show what you currently working on or tell how some of your previous works were made of. It always goes nicely, especially with the videos. |
| Studio | Demonstrate your workplace, gear, and tools you use. I find that this type of content attracts both listeners and producers. |
| Mentions | Did some credible DJ played your track? Have your track climbed at the top chart? Did you give an interview? Tell about it. |
| Share | Shout-outs to the other producers you enjoy. Share their music, give them credit, tell why you like that particular track or song. |
| Trivia | Some episodes of your daily life. Remember that something that seems ordinary to you as a producer might be interesting from the fan's perspective. |
| News | Official announcement such as signing on a record label, release dates, new track's preview; milestones in your career. |
| Hashtags | Share content on a specific day of the week with trendy hashtags, like #ThrowBackThursday or #FridayFunday. |
But you can go further and create your own sort of series of content. For example, I host a monthly radio show, run a weekly advice blog, and plus occasionally share "Track of the week", "Weekend readings" and other blogs. It helps to fill the gap between releases as so I always have some content to share. And people know that too so they have a reason to keep an eye on my updates.
Here are some of my posts just to give an example: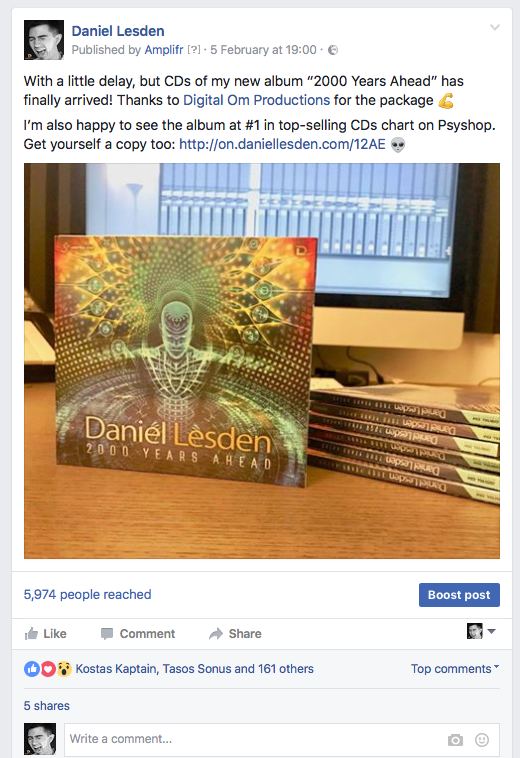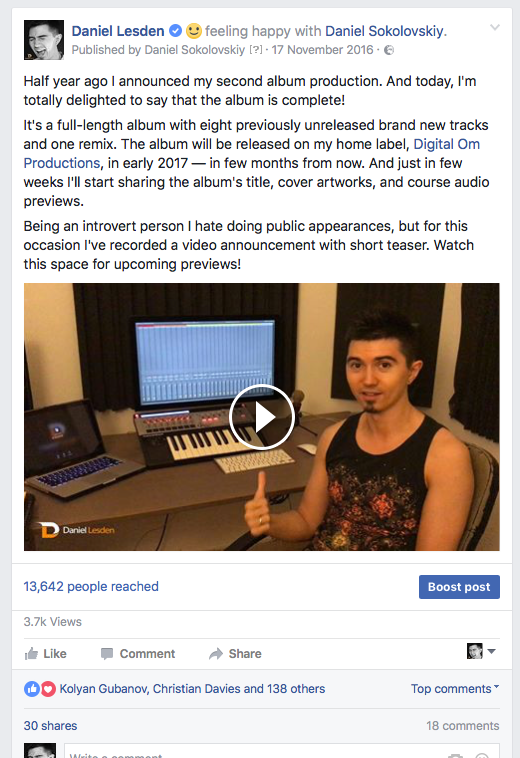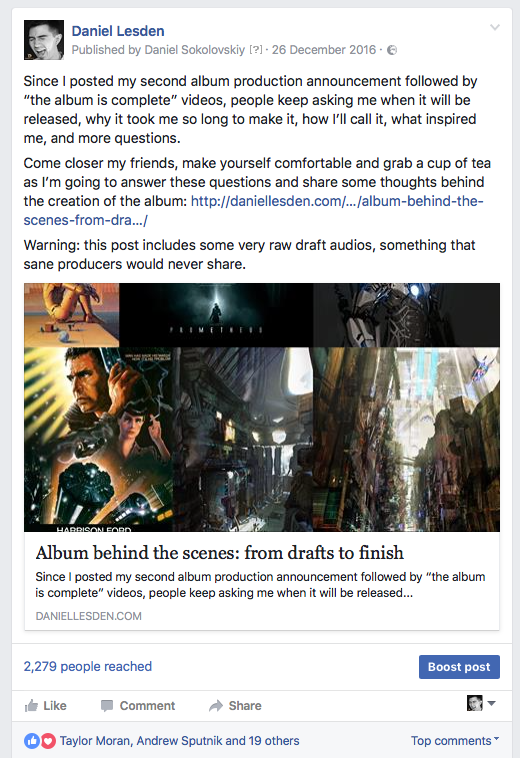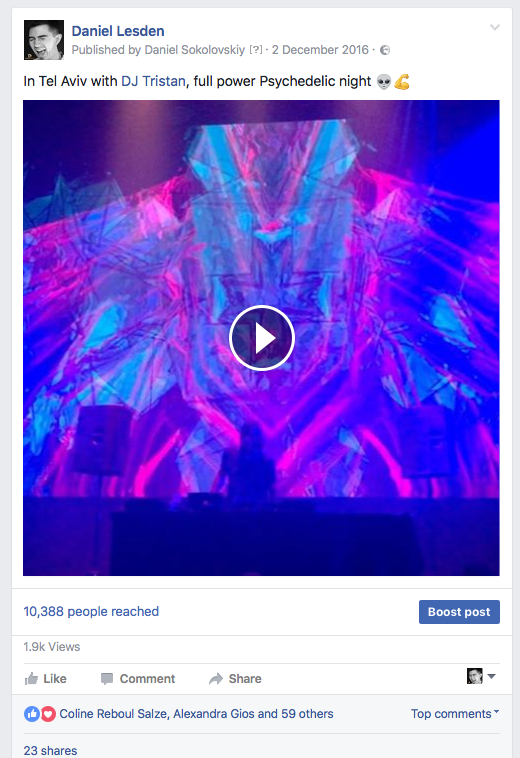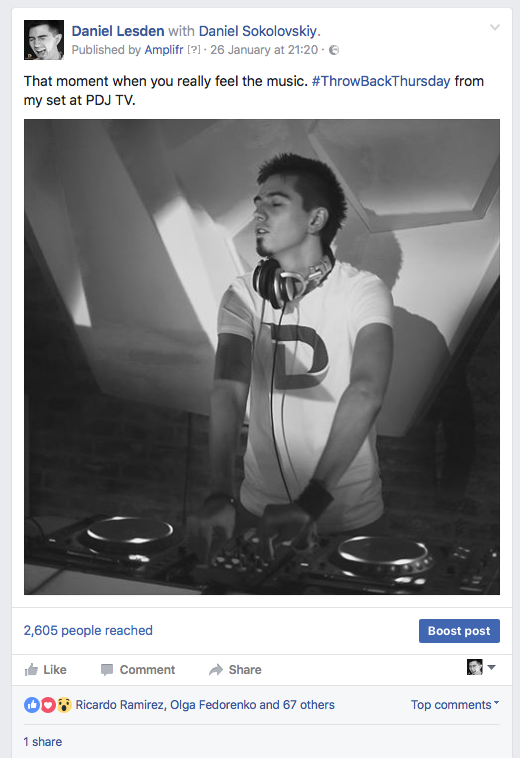 As for you trying to find someone who could post on your behalf, read the advice on artist's manager if you haven't yet because it's a quite similar story. If you have no idea what to post on Facebook, how do you think someone else would know it unless you expect some generic phrases and producer's memes? It might be a good idea to put social media management on someone's else shoulders later, but I wouldn't recommend doing that in the beginning because that's how the learning curve goes, you have to get that experience from the first hand before hiring someone.
I also highly suggest checking out my experience of managing social media using Amplir. If you have the right tools and know how to use them, it turns out, managing social media isn't that hard and time-consuming. In fact, you can have several active social accounts just by spending an hour a week if you work efficiently, so time is no excuse even for busiest persons.