Preparing for a live set
Based on a true story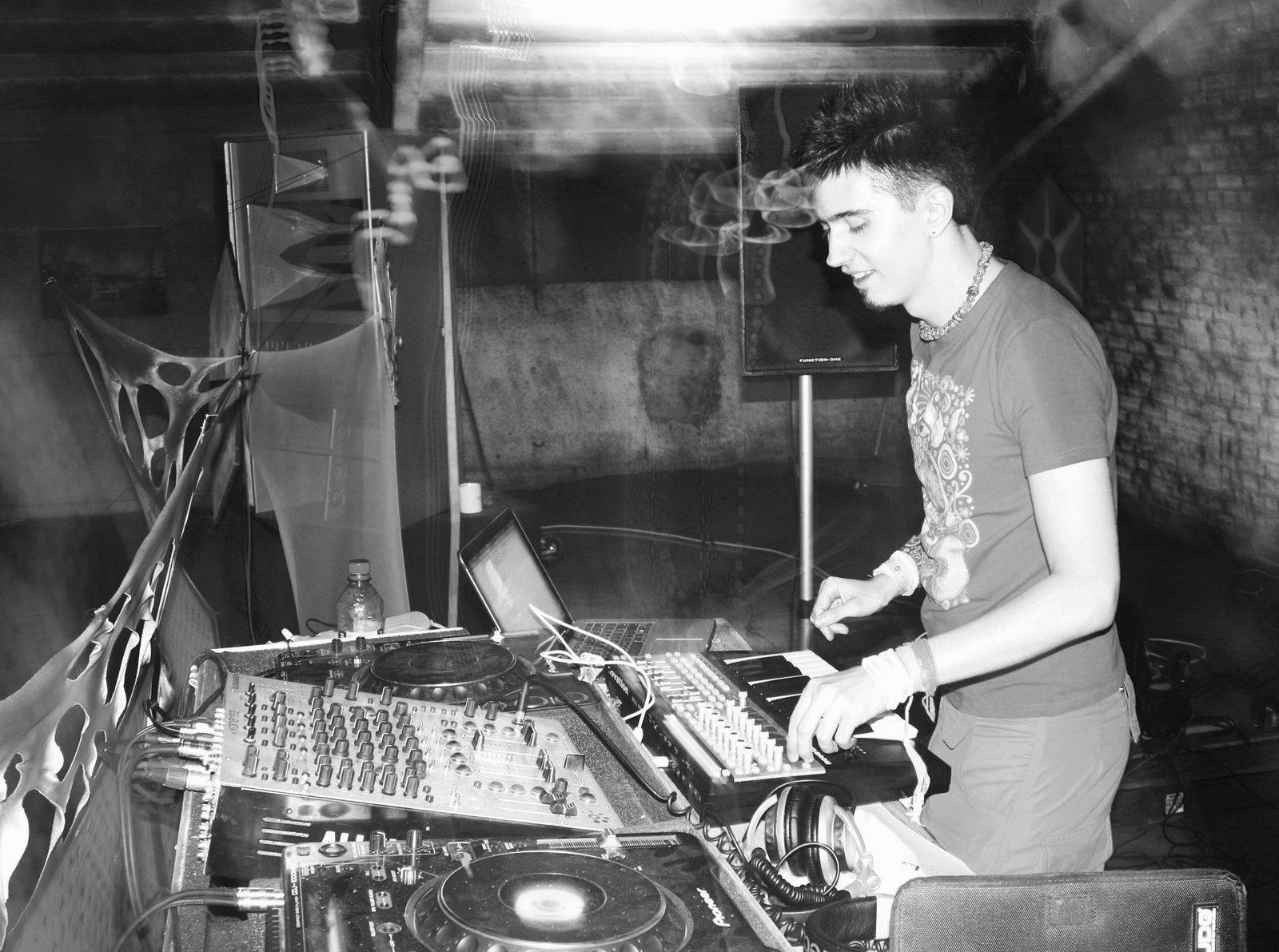 Please tell about your first live set: what kind of equipment did you use, what preparations have been made prior to the event technically and organizationally, and all that stuff in details. Once you agreed with a promoter to play on that event, what were your next steps? I really wonder how all these things work behind the scenes, everything from the moment until you get to the turntables.
Evgeniy Dolgih
Evgeniy, I'm not sure that you'll get anything useful out of my story because every artist's experience is unique. Some things that worked well for me doesn't necessary will work for you, and vice versa. Also, keep in mind that preparation for local and international gigs are quite different things. But anyway I'll try to answer your questions and add some practical tips by the end.
I started to play live in 2012 — before that, I played with a DJ sets only. At this point I want to clarify: I call set a "live" when you do some live real-time manipulations and edit/transform or change tracks on-the-fly (and these tracks doesn't necessarily have to be yours), as the opposite to traditional DJ sets when you simply mix track A with a track B. It was a Progressive-Psy night with Serbian headliners, and I was a closing artist. Obviously, as an up and coming musician, I was very happy about this opportunity.
As soon as my set was confirmed, I asked the promoter to show full lineup and timetable — who and when is playing. I've checked every single artist (including local DJs), found their social profiles and listened to their music. Also, I went to the venue website to see photos from the previous events. That allowed to me to get an idea of what can I expect from this event, whom I'll meet on the stage and what music they gonna play.
Once I've got all the needed information, I started preparation of my set. Don't be confused here: "preparation" doesn't mean pre-record a set as some people think — at this point, I just test tracks to see what works together, and edit arrangement if necessary — cut too long breakdown or fix non DJ-friendly intro/outro. I always keep in mind those pairs that work nicely, so when some track is playing to the sound system, I know which track will fit in the mix next.
I was nervous a lot, obviously. That was my first live set, after all! To calm down shaking hands and get more confidence, I practised hours and hours long. By practice I mean turn the world "off", and playing 1-2-hour sets like if I would play on the stage for real. And this actually helped a lot.
At that time my setup was the following: Novation 25 SL MKII MIDI-keyboard/controller connected to a MacBook Pro by USB, and external audio interface Native Instruments Traktor Audio 2 connected to a DJ-mixer via stereo RCA-cable to Line-In channel.

I've chosen this midi-controller due to its unique specifications: 8× encoders with infinite rotation, 8× 270° knobs, 8× channel faders, and the keys. Faders are quite rare things on the MIDI-controllers, and this is exactly what I wanted to use with my setup. As being said at the beginning, this works for me, but doesn't necessary will work for you too, so please don't buy this equipment just because you read about it here. Just for the record, nowadays in 2016, I use Novation 25 SL MKII in the studio only.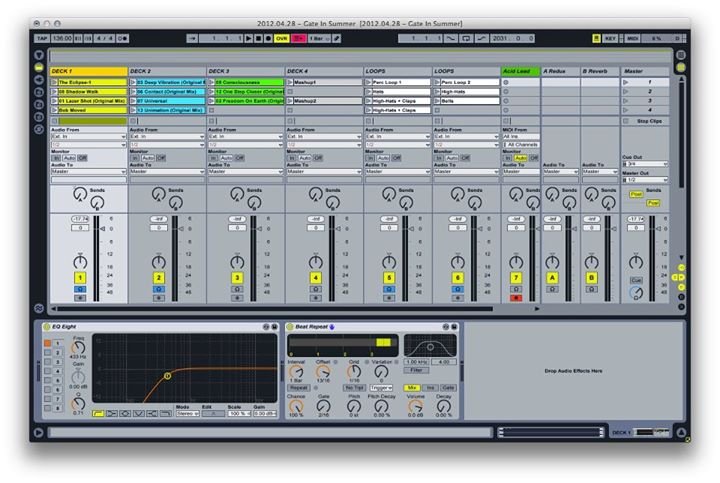 Ableton Live is the heart of the setup. In 2012 I posted my Ableton setup I used at that time, so if you don't mind I'll just quote myself:
"My Ableton setup for performance at stage", posted on Facebook on July 31, 2012

My Ableton setup explained, 2017
"I'm using from 8 to 10 channels. The first three Audio channels – main decks for mixing. Channel #4 is for mashups (melodies, voice etc). On top of this channel – a sidechain-compressor with 4/4 kick pattern from another MIDI channel to prevent kick overlay. Channels #5-6 for some extra hats and percussion loops. On each of these channels – EQ-Eight with Hi-Pass filter. Then some MIDI-channels with VSTs – I'm using it for live versions of my own tracks, playing some melodies or modulate synths in real-time. Then Send/Return channels with various effects such as Reverb and Redux. I send these effects to other channels via return, except several effects, for instance, Beat Repeat. All of these things and many more such as scene select, play, stop, pitch control, filters, and more I control in real-time using MIDI-controller Novation 25 SL MKII."
So that is how I've spent the last few weeks before the event — preparing, practising and tweaking the setup.
The day "X" — the party time. My set time was 5 AM, as far as I remember. I've made a little mistake and came up around 1 or 2 AM, so I had not a chance to check out and see the stage routing in details prior to the event. I went to the stage in about 15 minutes before to my set, put equipment on the desk, and plugged cables. Okay, now is the time. People applauses, I pressed the play button... and heard no sound from the sound system. Damn! Luckily, I realized that I connected my sound card to the wrong channel on the DJ mixer and quickly fixed it, but it was the scariest 20 seconds of silence in my life!
"Promo video 2012", recorded at that event
Recap:
Do research: learn more about other artists in the lineup, local DJs, and venue.
Prepare your set: make sure you know each track in your music library perfectly.
Do rehearsal. This way you can get more confidence and take away the stress.
Double-check your equipment. Make sure all your software and hardware piece of gears are up to date and works properly.
Arrive at the venue prior to the doors opening, so you could do a soundcheck, get to know the venue and the crew.
Take your fee on arrival if you get paid by cash.
Perhaps, dear readers would like to share their first live set experience in the comments below?
On cover images: myself playing at one of my first live set. Forest Quest Festival, Russia, 2012.