Interview for TranceFamily Community
I gave an interview to TranceFamily Community, one of the leading Trance music page and entertainment website. The interview covers a lot of my background and personal life.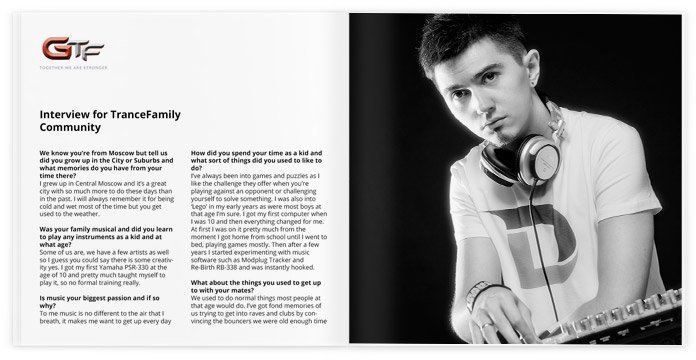 We know you're from Moscow but tell us did you grow up in the City or Suburbs and what memories do you have from your time there?
I grew up in Central Moscow and it's a great city with so much more to do these days than in the past. I will always remember it for being cold and wet most of the time but you get used to the weather.
Was your family musical and did you learn to play any instruments as a kid and at what age?
Some of us are, we have a few artists as well so I guess you could say there is some creativity yes. I got my first Yamaha PSR-330 at the age of 10 and pretty much taught myself to play it, so no formal training really.
How did you spend your time as a kid and what sort of things did you use to like to do?
I've always been into games and puzzles as I like the challenge they offer when you're playing against an opponent or challenging yourself to solve something. I was also into 'Lego' in my early years as were most boys at that age I'm sure. I got my first computer when I was 10 and then everything changed for me. At first, I was on it pretty much from the moment I got home from school until I went to bed, playing games mostly. Then after a few years I started experimenting with music software such as Modplug Tracker and Re-Birth RB-338 and was instantly hooked.
What about the things you used to get up to with your mates?
We used to do normal things most people at that age would do. I've got fond memories of us trying to get into raves and clubs by convincing the bouncers we were old enough and most of the time it worked. A big part of the scene was house parties, a lot of these would have the biggest and loudest sound system you could imagine, so there certainly was a buzz about the place. I could go non stop through a weekend, each night at a different event or club. Then get up on a Monday morning bright eyed and ready to go and I never needed to take any drugs to feel good. I guess it's part of my make up so I'm definitely not going to complain.
Describe to us the style of music you used to listen to growing up and what was it about this that attracted you to it?
When I was quite young I used to like Prodigy, Scooter, Marusha and others on that sort of wave length. It was a good mixture of Techno and Breakbeat, which I liked. Around 1998 I got more into the Hardcore and the subgenres 'Gabber' and 'Happy Hardcore' as well as Trance and its 'Progressive', 'Goa' and 'Dream Dance' styles. This changed once I started going to raves and events and I was more into the likes of Ferry Corsten when he used the alias System-F as well as Rank 1, Push and so on. Weirdly I also had a passion for the more Techno sound of things from the likes of Mauro Picotto and Yves Deruyter. Around 2004–2005 my musical tastes transformed again and I re-discovered the beauty of 'Goa' and 'Psychedelic' Trance. That was the golden era of full-on sound as I used to call it. I loved the melodies and 145-150 BPM, hell yeah!
Can you remember any events you went to and tell us your memories of one of these?
I remember the first ever 'Gatecrasher' rave in Moscow in 2004 with Motorcycle, Gabriel & Dresden, Prodigy and Bobina as a few headliners on the bill. It took place at 'The Gaudi Arena', which for Moscow ravers is a legendary place. It's located in an old industrial area of Moscow and the event was just massive. I will probably never forget the feeling of being around so many people who were all there simply for the music.
Is music your biggest passion and if so why?
To me, music is no different from the air that I breathe, it makes me want to get up every day and I couldn't imagine a world without it. I took the decision towards the end of 2011 that if I was going to make this work I needed to concentrate 100% of my time on it and the only way to do this was to go professional. With the backing of my family and friends I took the first steps on this path and haven't looked back since.
What other things are you interested in and do you think these have any bearing on the style of music you produce?
I have a deep love for everything to do with the Universe and its infinite complexity. The fact we know so little about the galaxies and stars that surround us excites me immensely. I find myself drawn to the potential discoveries that we can only dream of. I try to use this outlook in my productions and remixes by pushing the boundaries further and further each time. Technology also excites me and I love how the likes of the Internet has opened up a completely new opportunity for artists like myself. Whether it is collaborating on a track with someone on the other side of the world, or interacting with my fans. It brings like-minded people who share a passion together like nothing else we have seen before. Outside of the musical sphere I love cooking, this goes back to the days I used to be a chef. There is no better feeling than sitting down with your closest friends and family and sharing a good time around the table.
Are you driven by the ambition to be successful?
I'm not the sort of person that says to themselves I would love to play this event or collab with such and such a producer. I normally get on with it and try to give my best in everything I do and push myself further each time because I just love what I do. It seems to be working and 2013 has been a great year for me so far with a lot more to come. Hard work and determination are two key attributes you need in this industry and not forgetting the encouragement of those around you to keep you on track. My ultimate goal would be to follow this path for the rest of my life. Who wouldn't want to spend the rest of their days doing something they love!
Outside of music what dreams and desires do you have for yourself?
Travelling is probably one of the biggest I can think of. I love discovering new places, experiencing different cultures and meeting new people, this opens your mind and broadens your horizons and can only help on our own journey through life. As for choosing one place to travel to it would have to be Mars (and back!) :) I think this may well be possible at some point during this century and as I have a love for all things to do with the Universe this would have to be my ultimate destination.
So what does family mean to you?
Simple, it's the most important part of my life! When I first made the decision to go professional I was expecting them to convince me it was the wrong thing to do and to get a normal job. It was, in fact, the opposite, they supported my decision and backed me 100% so I have a lot to thank them for, especially my wife. Without the support of your family around you, life is so much harder, so I am blessed to have such a great family.
The tools of any artist or craftsman are important so tell us about your setup?
I run a quad-core i5 iMac with a 27-inch screen pretty much maxed out as well as an i7 MacBook Pro running Ableton Live and just love it! A Novation 25 SL MKII keyboard/controller and an Allen & Heath XONE K2 controller. It pretty much does what I need it to but I'm looking to invest in some better monitors to round it off. As far as plugins are concerned I love Sylenth1. I find it so easy to use and it sounds solid at the same time, as well as a NI Massive for its sheer flexibility no matter what I need it to do.
How much time do you get to spend in the studio?
Not as much as I would want to if I am honest! It can range anywhere from 2 to 4 hours depending on my current schedule. I tend to get into a state of mind when I'm in the studio and focus on what I'm doing, so you could say I work alone pretty much. It's simply about getting the balance right.
What currently inspires you?
If I had to choose one artist that inspires me the most it would have to be John 00 Fleming. He is a legend and has been doing his stuff for the last 20 years and still manages to surprise everyone with another masterpiece time and again. He's remained true to his routes with his underground style and at the same time achieved commercial success around the world. I respect him not only as a producer but as a person.
Tell us how you go about working on a new original or remix?
The idea comes from something I see or hear and then I build a storyline behind it. I find by visualising an image or a short scene in a movie I can start to build the emotion for the various parts but not necessarily in the right order. Once you have the basic building blocks then it is about making sure the script takes the listener all the way through to the end with just the music.
Your tracks are played on the likes of Open Up and many others. How does it feel to know your hard work has paid off?
It means the world! The support from various DJ's and radio shows gives me the further drive to continue on this path. I have a long way to go but if I continue to do what I love then the hard work will be worth it.
I know you won't tell us but still I have to ask. Are you working on any collaborations at the moment with anyone we might know?
I've been asked to do quite a few collaborations recently and whilst I would love to pick these up I have been concentrating my time on finishing my new studio album. I just finished the sixth track and it should hit before the end of the year. Once I've got this nailed I'll be looking at doing some great collab's and have some things already lined up for early 2014.
Life is about more than the music but it plays a big part in a lot of peoples lives so rather than ask a question we thought we'd leave it to you to close things off.
Words are sometimes not enough to convey my thanks to those that have supported me and given me the strength to move forward and chase my dream. These guys know who they are and I am eternally grateful for your support and backing. Just as important are you guy the listeners and your appreciation for my music. The reaction you get from people who buy or share your tracks is the ultimate recognition any artist dreams of so thank you!
Link to the original post
Text — Simon Waring