YouTube vs. Facebook videos
Being an artist, I always looking for a better way to reach out to my audience. I have a lot of things to say and show.
I've read that the popularity of video content on Facebook has grown significantly recently, and what's most important — people like it even more than photos and text stories. I have never uploaded a Facebook video before, so yesterday I've decided to test it out on one of my old video. The result is quite surprised me.
To understand the full picture, I'll compare stats of YouTube video (uploaded 4 months ago and shared across all networks several times) with that Facebook video I uploaded yesterday. The video itself is exactly the same.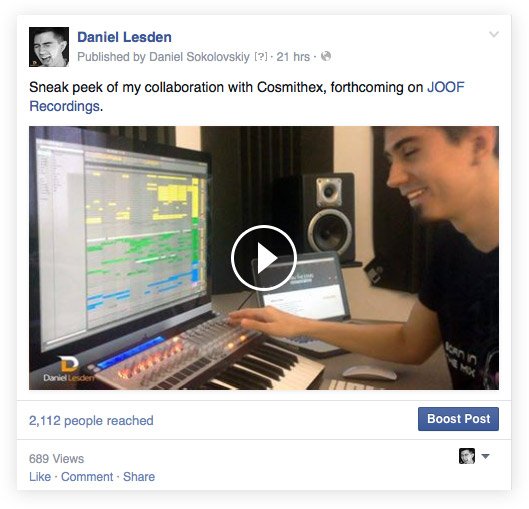 Facebook has overtaken YouTube just for 1 day! Even less actually, 21 hours to be more precise. I'd be curious to compare these stats again in 4 months. Furthermore, each share got their own likes, for instance, the post I shared through my personal page got another 32 likes on top of that 57.
In fact, that video post has reached out 2112 people, which is about 16% of my total 13045-page followers. This is huge. Usually post reaching about 5~7% people, 10% if you're lucky enough.
I will post more videos for sure.