Vând Sunete focuses on track recommendations and features everything from new releases to genre classics. This time he reviewed Daniel's upcoming Life Simulation EP.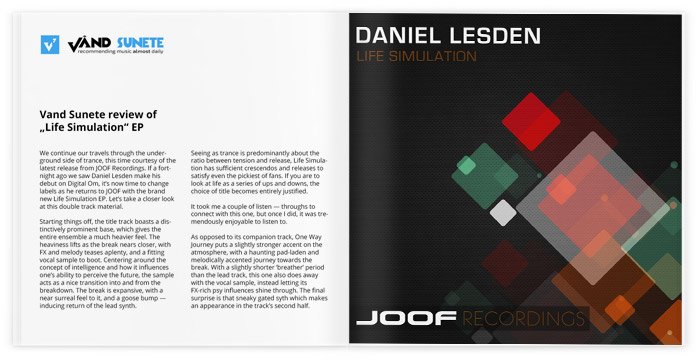 We continue our travels through the underground side of trance, this time courtesy of the latest release from JOOF Recordings. If a fortnight ago we saw Daniel Lesden make his debut on Digital Om, it's now time to change labels as he returns to JOOF with the brand new Life Simulation EP. Let's take a closer look at this double track material.
Life Simulation
Starting things off, the title track boasts a distinctively prominent base, which gives the entire ensemble a much heavier feel. The heaviness lifts as the break near closer, with FX and melody teases aplenty, and a fitting vocal sample to boot. Centring around the concept of intelligence and how it influences one's ability to perceive the future, the sample acts as a nice transition into and from the breakdown. The break is expansive, with a near-surreal feel to it, and a goose-bump — inducing the return of the lead synth.
Seeing as trance is predominantly about the ratio between tension and release, Life Simulation has sufficient crescendos and releases to satisfy even the pickiest of fans. If you are to look at life as a series of ups and downs, the choice of title becomes entirely justified.
It took me a couple of listen — throughs to connect with this one, but once I did, it was tremendously enjoyable to listen to.
One Way Journey
As opposed to its companion track, One Way Journey puts a slightly stronger accent on the atmosphere, with a haunting pad-laden and melodically accented journey towards the break. With a slightly shorter 'breather' period than the lead track, this one also does away with the vocal sample, instead of letting its FX-rich psy influences shine through. The final surprise is that sneaky gated synth which makes an appearance in the track's second half. It's probably my favourite part of One Way Journey and the reason why I slightly prefer this one over the other.
Preference aside, they're both very well constructed, with elements that should please the underground crowd. No matter which of the two has gotten your attention more, you'll be able to add it to your collection starting February 23rd, from Beatport. A couple of weeks later, it'll come to the other digital stores, in case you're a bigger fan of those.
Link to the original post
Text — Florin Bodnărescu