Quivver, F-Act, Fuenka, Facade, Drunken Kong, Alex Stein, Amelie Lens, and more.

Luke Porter, Dousk, Monojoke, Dosem, Sasha Carassi, Bedrock, Luke Chable, Coyu, and more.

10th-anniversary three-hour special episode!

I promised there would be a lot of music from me this month, so there you have it...

For the guest mix, I selected my recently favourite dark tracks, many of which I have already successfully tested in my sets, as well as my fresh productions

Don Ruijgrok, Basil O'Glue, Sasha Carassi, Alex Stein, Ectima, Reaky, Flutlicht, and more.

The Digital Blonde, Relaunch, Enlusion, Monococ, Drunken Kong, Stiv Hey, a brand new track from myself, and more.

Yeadon, Trilingo, Scanfix, Spektre, Cosmithex, Joyhauser, Whirloop, and more.

Amir Hussain, Rick Pier O'Neil, Perry O'Neil, Pleasurekraft, Rex Mundi, Thomas Heckmann, Viper Diva, Human Blue, and more.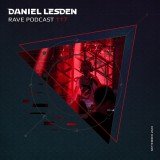 Daniel Lesden — Rave Podcast 117 00:00 Milkwish — Avalon (Quivver Remix) Songspire Records